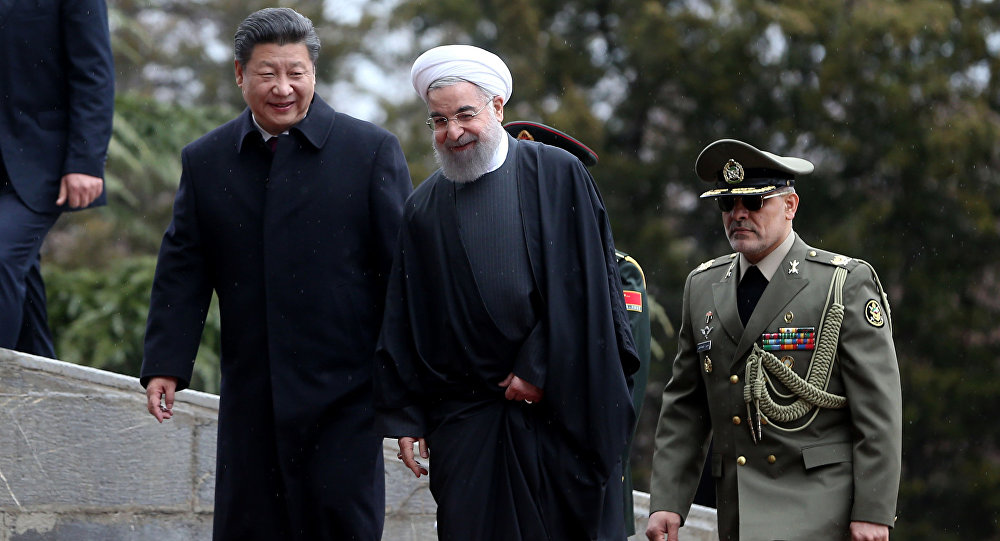 A Eurasian Golden Triangle is emerging with China, Russia and Iran as the three key points, F. William Engdahl notes.
The latest Sino-Iranian rapprochement has prompted a lively debate regarding the new Eurasian "world order."
"Sometimes profound tectonic shifts in the global politics arise from the least noticed events. Such is the situation with Iran and the recent visit to Tehran of China's President Xi Jinping. What emerged from the talks confirms that the vital third leg of what will become a genuine Eurasian Golden Triangle, of nations committed to peaceful economic development, is now in place," American-German researcher, historian and strategic risk consultant F. William Engdahl writes in his article for New Eastern Outlook.
On January 23, Chinese President Xi Jinping and his Iranian counterpart Hassan Rouhani signed almost 17 agreements on economic and technological cooperation. Furthermore, the leaders announced they will cooperate on the China-led One Belt One Road initiative.
The researcher calls the formal inclusion of Iran into China's New Economic Silk Road project "a giant positive step." According to Engdahl, it will allow Tehran to "break years of economic isolation" and will open doors to the region's economic development.
Pakistani columnist Afzal Hussain echoes Engdahl's stance.
"The lifting of economic sanctions from Iran provides trade opportunities for regional countries such as Pakistan, Afghanistan, China, Russia, and Central Asian Countries particularly, Tajikistan. The trade activity will generate billions of dollars not only for oil rich Iran but also for the countries having close economic relations with Iran," Hussain noted in his article for The Nation, the Pakistani media outlet.
Hussain views Pakistan as a "geographical corridor" between China and Iran.
"The China Pakistan Economic Corridor (CPEC) project has become more vital after latest trade accords between Iran and China," he underscored.
The Pakistani columnist highlighted Russia's determining role in the region and expressed his confidence that China, Pakistan, Iran and Russia will bolster trade and economic growth in Central Asia and beyond.
Referring to the fact that Iran currently has SCO Observer status Engdahl envisages that Iran will be formally admitted as a full member of the Shanghai Cooperation Organization (SCO) at their next annual meeting this summer.
In contrast to those experts who regard the recent Sino-Iranian rapprochement as a potential apple of discord between Beijing and Moscow, the researcher points to the fact that the countries would rather create a mutually beneficial triple alliance, a future cornerstone of a unified Eurasia.
"We're seeing the emergence of a true Eurasian Golden Triangle with China, Russia and Iran as the three key points," Engdahl underscores.
"With the stated plan to route the Silk Road rail infrastructure to assist the mining of new gold for currency backing of the Eurasian member states, including now Iran with its significant own unexploited gold, the hyper-inflated, debt-bloated dollar system is gaining a formidable positive alternative, one committed to peace and development," the researcher concludes.