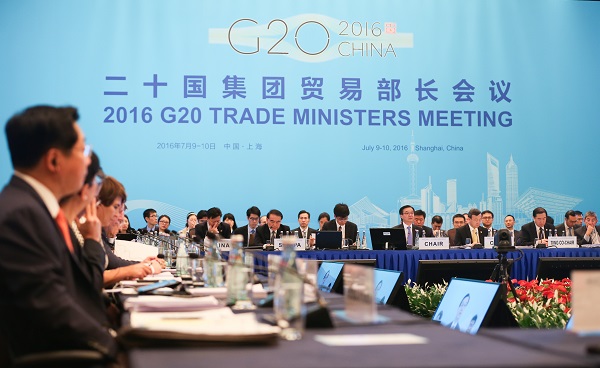 Chinese Commerce Minister Gao Hucheng has welcomed the adoption of the G20 trade growth strategy on Sunday.
Trade Ministers from the group of 20 nations wrapped up a two-day meeting in Shanghai on Sunday.
"This meeting was held in a positive atmosphere, expected results were achieved, and it was a complete success. The meeting became a good training ground at the trade and economic front for the G20 summit which will be held in September this year," Gao told reporters.
The G20 trade growth strategy adopted after the meeting is aimed at reversing a slowing in global trade, and backed guiding principles for global investment policymaking, the Chinese Commerce Minister said.
"It is fair to say that the agreements reached are the result of China's efforts, as well as the outcome resulting from the solidarity and the coordination between the G20 countries," the Chinese commerce minister said.
"The global recovery continues, but it remains uneven and falls short of our ambition for strong, sustainable and balanced growth. Downside risks and vulnerabilities persist," the ministers said in a joint statement.
On Friday, the WTO said it expects global trade growth to remain sluggish into the 3rd quarter of 2016.
Trade Ministers from the twenty countries also discussed a "worrying" rise in protectionism, Gao said on Sunday.
The joint statement issued at the end of the meeting also referred to the excess capacity in steel and other industries as "a global issue which requires collective responses" seeking to even out the blame that China complains has been unfairly attributed to it.
Chinese trade officials have repeatedly stressed that the country has been the victim of overzealous anti-dumping actions by foreign countries, which fail to take into account Chinese efficiency or its low labor and production costs.
Both US and Chinese policymakers have accused the other's government of distorting trade to protect domestic interests.
Washington still continues to use "non-market economy methodology" when deciding whether Chinese goods are being "dumped" into the US market at unfairly low prices.
The United States government is expected to alter this status by the end of 2016 to avoid being in violation of US trade obligations.
South African Trade Minister Rob Davies said on Saturday that the G20 trade ministers' meeting was "taking place at a critical time when the global economy is experiencing global shifts".
Davies also held a bilateral meeting with his Chinese counterpart Gao Hucheng on Saturday where the two sides discussed China-South Africa trade and investment ties.