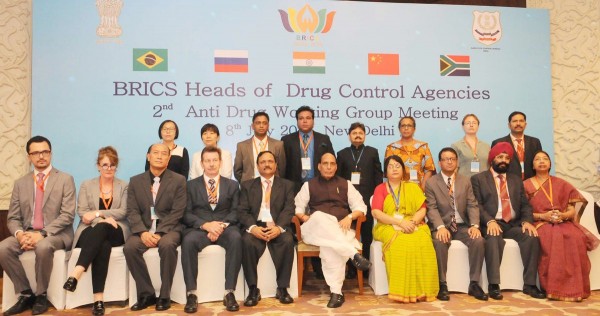 BRICS heads of drug control agencies have met in New Delhi on Friday to coordinate the counter-narcotics efforts of member countries.
"Today, the drug business generates the highest illegal fund flows and leads to narco-terrorism, which poses a serious threat to global security and endangers peace, health and stability across the regions," Indian Minister for Home Affairs Rajnath Singh said at the meet.
"The aim of the meeting is to evaluate the drug abuse situation in the member countries and analyze the legislations of BRICS member states as well as devise modalities to share the best practices of enforcement," said an official Indian statement after the meet.
Singh said the illicit cultivation of opium mainly in Afghanistan and South East Asia and coca bush in South America continues to be a challenge for everyone.
In 2014, the United Nations reported a 60 per cent growth in Afghan land used for opium poppy cultivation since 2011, up to 209,000 hectares. The estimated $3 billion value of Afghan heroin and morphine represents some 15% of Afghan GDP.
The United Nations Office on Drugs and Crime (UNODC) estimates that Southeast Asia's trade in heroin and methamphetamine was worth $31 billion in 2013.
In 2015, China seized a record 36.5 tons of methamphetamine, the UNODC said.
Wei Xiaojun deputy secretary general of China's National Narcotics Control Commission (NNCC), called drugs the "main threat" along parts of the Mekong river, known as the Golden Triangle.
The first meeting of the BRICS Anti-Drug Working Group was held on November 10, 2015, in Moscow.
The BRICS Anti Drug Working Group was established with an aim to addressing the issue on countering the illicit trafficking of narcotic drugs, psychotropic substances and their precursors.