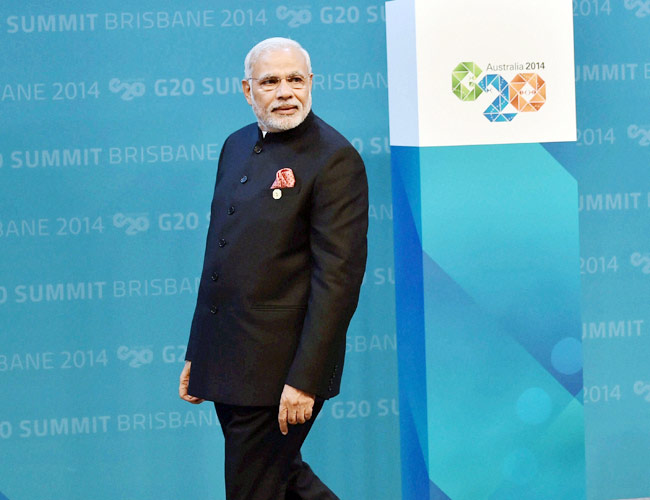 With India being the largest recipient of remittances in the world, Prime Minister Narendra Modi will at the G20 Summit this weekend press for cutting transaction cost for transferring money from abroad.
Modi, who will attend the 10th G20 Summit at Antalya, Turkey, on November 15 and 16, will also voice concern over delay in implementation of the quota reform of the International Monetary Fund (IMF) are aimed at giving more voice and voting power to the emerging economies.
"My visit to Turkey for G20 Summit will commence on November 14," the Prime Minister said in a series of Facebook posts.
The Summit, he said, is being held at a critical juncture – just after the adoption of Sustainable Development Goals agenda at the United Nations, and just before discussions on climate change at COP-21 in Paris on November 30-December 1.
It will review the progress on decisions taken at last Summit in Brisbane and take up issues of climate change, terrorism, refugees, weak growth in global economy, strategies for growth and employment, investment strategies, trade, energy and financial sector resilience.
"Like last year, India's focus on mitigating the menace of black money, tax erosion and bringing greater transparency remains," he said. On the sidelines, Modi will have several bilateral meetings with world leaders to deepen bilateral ties.
NITI Aayog Vice Chairman and G20 Sherpa Arvind Panagariya said key issues covered at the Summit are development and climate change. Also inclusive growth will be discussed with leader deliberating on global economy, growth strategy, employment growth and investment strategies.
The third set of issues relates to financial regulation, international tax, anti-corruption and IMF reforms. Finally there will be discussion on trade and energy.
"There is wide agenda. There is also discussion on terrorism in a dinner session," he told reporters here.
With about $70 billion in remittances in 2013, India is the largest recipient of officially recorded remittances in the world.
India, he said, has been pushing to bring down transaction cost for remittances. The transaction cost which was about 10% has because of sustained campaign by India come down to 7.5%.
The target is to bring it down to 3% by 2030 and Modi will push for "speeding up attaining of this objective," he said.
On IMF quota reforms, he said, "I think we can again still make a strong pitch. The 2010 reforms remain implemented and particularly the quota reform. Countries that have not ratified particularly US should do so. That is going to be part of discussion and pitch for India."
Panagariya said growth has been generally been the main focus of G20 but there will also be a discussion on terrorism and India does have a position on that.
Modi, he said, will urge G20 countries to create a mechanism through which countries can assist each other during downturns. For example, the US could have been of help in some areas during the recent Chinese crisis.
Global growth has been tepid even though efforts have been made to accelerate it. On black money, he said, a task force on flow of illicit money and financial terrorism is ready with its report and a set of recommendations will be presented at the G20 Summit.
"It also has country wise compliance," he said.
On the sidelines of the Summit, BRICS nations will meet to review progress of their two recent initiatives – the BRICS bank and the contingent reserve arrangement, he added.