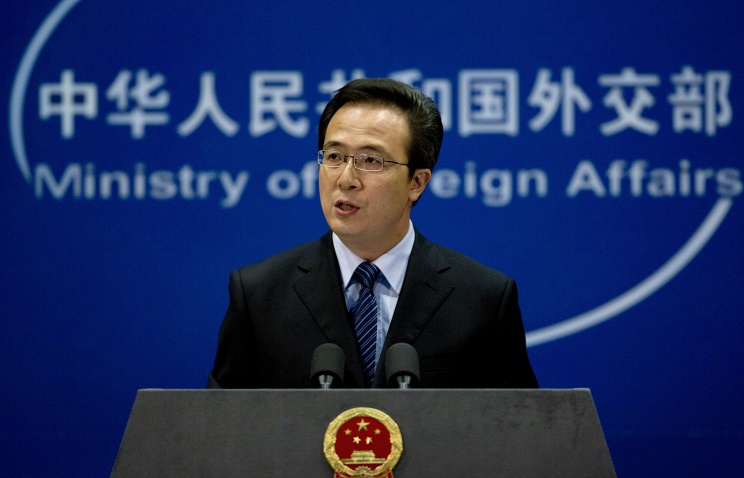 BEIJING, November 9. /TASS/. China will take part in the broad ministerial meeting on Syria scheduled for November 14, Chinese Foreign Ministry spokesperson Hong Lei told a briefing on Monday.
"The second broad ministerial meeting on Syria will take place in Vienna on November 14. China will take part in the meeting to facilitate the political resolution of the Syrian problem," he said.
Hong Lei said that China welcomes the results of the last ministerial meeting on Syria and supports continuing the fight against the Islamic State terrorist organization and other extremist groups. "The participants of the Vienna meeting are very attentive to the problem of fighting against terrorism. All sides, including China, support airstrikes at the sanctioned Islamic State and other terrorist forces in accordance with the UN Security Council resolution," the spokesman noted.
He added the importance of coordinating efforts and UN's role in settling the Syrian crisis. Hong Lei called for refraining from "using double standards and linking terrorism with any concrete nationality or religion."
The first meeting of the foreign ministers was held in Vienna on October 30.
On October 29, a four-party meeting took place in Vienna between Russia, US, Saudi Arabia and Turkey on the settlement of the Syrian crisis. On October 30, the discussion was joined by other countries and organizations — 19 in total. A final document of nine points was adopted after the meeting.
The communique said that "the participants invited the UN to convene representatives of the Government of Syria and the Syrian opposition for a political process leading to credible, inclusive, non-sectarian governance, followed by a new constitution and elections. These elections must be administered under UN supervision to the satisfaction of the governance and to the highest international standards of transparency and accountability, free and fair, with all Syrians, including the diaspora, eligible to participate."