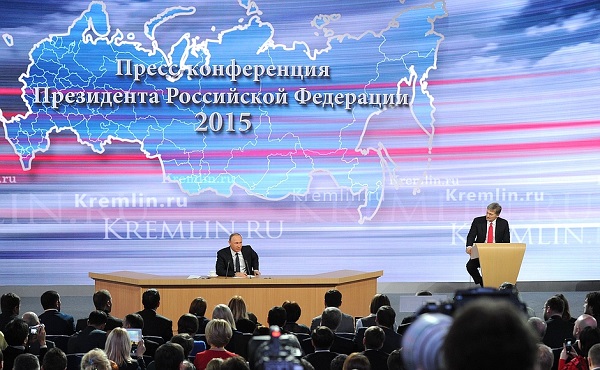 President Vladimir Putin held his end-of-year news conference amid a growing assertive role of Moscow in the global fight against terrorism. Putin on Thursday also sought to ease fears over Russia's economy, insisting that business activity in the country had "stabilized", although falling oil prices had dealt a blow to the economy.
Putin also said on Thursday that at the moment he "sees no prospect" of mending frayed ties with the current Turkish leadership after Ankara dramatically downed a Russian jet bomber last month, an incident he termed a "hostile act".
"It is hard for us to reach agreement with the current Turkish leadership, if at all possible," Putin said, alleging that Turkish leaders had downed the Russian jet in Syria in an attempt to "cosy up to" the US.
"Was it that hard for Turkey to use diplomatic, military channels to discuss most "sensitive issues"? What have they achieved? Maybe, they thought that we would run away from there (Syria)? But Russia is not such a country," he added.
Speaking at his end-of-year news conference, which lasted over three hours, Putin said the Russian position on the future of Syrian President Bashar Al-Assad is "unchanged".
"We will never agree on any external process on who is to govern any country. Within democratic procedures, Syrians must decide on who is going to govern the country," Putin told a large gathering of Russian and foreign journalists.
Putin also rejected reports of Moscow's alleged plans for establishing a permanent military base in Syria.
"Not sure we need a military base in Syria, what is the special need for this?" he asked.
Speaking about the state of the economy, Putin said the "government is seeking to achieve 0.7% growth in 2016, 1.9% in 2017, assuming that oil prices stayed at $50".
Russian gross domestic product declined 4.1 per cent in the third quarter of 2015.
"I support the policy of the Russian Central bank in achieving macro-economic stability. The Central Bank's key interest rate cannot be marked down by administrative measures, because economic realities must be taken into consideration," he said.
Putin, though, accepted Russia had failed to diversify its economy for the past two decades and relied too heavily on its oil and gas exports.
Meanwhile, he urged the Ukrainian government and pro-Russian rebels in the east of the country to conduct a quick "all for all" prisoner swap, one of the few things on which Moscow and Kiev are in agreement, claimed Putin.
Ukraine and the West accuse the Kremlin of sending Russian troops to fight with the rebels.
During the televised address on Thursday, Putin said Russia has had no regular troops in eastern Ukraine, although there have been people "performing some military tasks."
Putin, on Thursday, spoke frankly without notes, accepting questions even from Russian and foreign journalists known for their hostility to him.