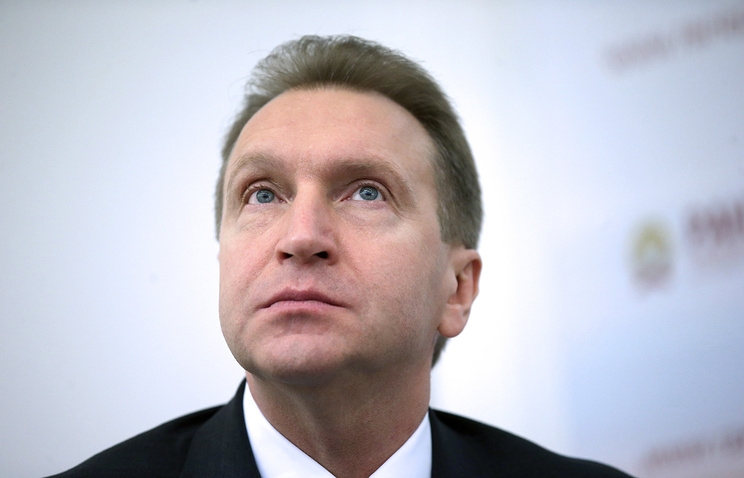 Russian economy is in a situation of complete absence of bubbles on all markets and an inflow of investments is expected shortly, First Deputy PM Igor Shuvalov said on Thursday, speaking at the World Economic Forum in Davos.
"We are in a situation when there are no bubbles. Neither on the real property market nor on the securities market. An absolutely sterile situation. We are ready for serious movement of foreign direct investments to start shortly," the official said.
Shuvalov said that economic growth in Russia in 2017 could range from 1 – 2%.
"This economic year will be better for us than 2016…Right now the situation is not bad, we had economic growth at the end of last year, and we hope that this year our growth will total 1-2%," Shuvalov said.
Economic growth of 2% is too low for Russia, according to Shuvalov.
"We believe that 2% for Russia is low growth," Shuvalov said.
On relations with China
Russia and China have moved to cooperation "on all fronts" after the introduction of Western anti-Russian sanctions, Shuvalov said.
"Our relations with China are developing extraordinarily. Earlier the strategic discussion at the level of the leaders was very positive. However, the agenda was special – it included agreement on borders, strategic arrangements, for the most part oil and gas in regards to the economy. After the introduction of the anti-Russian sanctions, we have agreed with the Chinese partners to begin working on all fronts," he said.
On recovery of Russian-US ties
Russia exercises caution in respect of statements on quick recovery of relations with the United States, First Deputy Prime Minister Igor Shuvalov said on the sidelines of Davos World Economic Forum on Thursday.
"We in the government are very cautious in respect of all statements regarding some quick scenario of relations development [between Russia and the US – TASS]… We should nevertheless do our job, realizing that difficulties would remain," the official said.
Russia will continue pursuing its sovereign policy despite sanctions, Shuvalov said. "We will continue pursuing our sovereign policy, just as we did before," he said.
Russia has its own agenda in economic openness, creating free trade zones, export and relations with other countries, the official said. "Lack of trade with the USA is not an obstacle for us. There is a huge interest with co-operation with Russia," he added.
"It's most important for the Americans to deal with the global security agenda and I think if the dialogue is built up here then economic relationships [between Russia and the US – TASS] will get a serious impetus," Shuvalov said.
On cooperation with EU and sanctions
Russia is ready for dialogue with the European Union. At the same time the Russian government does not expect that anti-Russian sanctions will be removed soon, Shuvalov said.
"Perhaps the market expects that there will be better relations with the US. In our work we proceed from the fact that there still can be quite tough external conditions. We plan our agenda considering that the sanctions will remain," he said. He noted that removal of sanctions would improve the situation.
Shuvalov stressed that from its part Russia always shows readiness for cooperation with the EU and is ready for any form of the dialogue.
"Russia never said that we stop any dialogue, or we do not want to participate in any of its formats. We had some appropriate formats. This was the initiative of the EU and some other countries," First Deputy Prime Minister said.
"As soon as there is readiness for cooperation on behalf of the European Union, we are absolutely open and we will immediately proceed to such discussions at the level of government, the Foreign Ministry, the President's Administration," he said.
Shuvalov added that Russia does not expect any of EU member-states to lift sanctions unilaterally either.
"Russia was never interested in driving a wedge between European countries. We are interested in united and strong Europe," he said.
On Trump
US President-elect Donald Trump will hopefully become a professional leader and will be able to reach an agreement with Russian President Vladimir Putin for the sake of global security, Shuvalov said at the plenary session of the Davos World Economic Forum.
"My hope is that Donald Trump, a superb professional entrepreneur, will become a professional president and in order to achieve results for global security he will agree with president Putin, on how to solve the problem of Ukraine and other problems. But for results, one needs to communicate, to talk and negotiate and not push Russia in a corner. I hope this dialogue will happen," Shuvalov said during the plenary session.
Relations between Russia and the West are expected to be warmer this year, the official said. "Globally we think it will be warmer for Russia. Global security requires agreements with Russia. It's better to have agreement and discussion than push each other into corners," Shuvalov said.