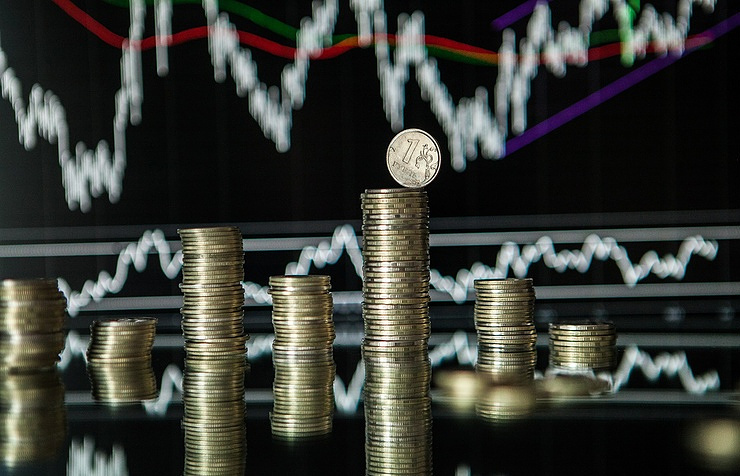 Russian economy has adjusted to the new environment in 2016 and is ready to recover in 2017. The Economic Development Minister projects a 0.5% GDP contraction for 2016, the Central Bank expects inflation at the level of 5.4-5.8%, while the Finance Ministry forecasts budget deficit at 3.7% of GDP. Despite a challenging economic situation in early 2016, politicians and high-rank officials have repeatedly stated that the country's economy is ready for changes in external conditions.
In January, Prime Minister Dmitry Medvedev called for Russians to withstand pessimistic sentiments despite the record plunge in oil prices, the continuing economic recession and the ruble's devaluation at the beginning of the year. Later in February, Russia's State Duma Speaker Sergey Naryshkin said that the country had turned out to be ready for the crisis and better protected than many other countries also "sensitive to the commodity market dynamics" due to the accumulated reserves.
As the end of 2016 approaches, it becomes clear that the expectations of the country's leadership regarding economic recovery panned out. Now, according to official forecasts of the Finance Ministry and the Central Bank for 2017, the situation looks much more positive than in early 2016: GDP growth is expected at the level of 1-1.5%, inflation is about to slow down to 4% by the end of next year, while budget deficit will amount to 3.2% of GDP with average annual price of Urals crude oil at $40 per barrel.
Analysts are also more optimistic about future economic prospects. According to estimates of 47 analysts polled by Bloomberg, Russia's GDP growth will amount to 1.1%, inflation will slow down to 5.1% and budget deficit will be 3% of GDP. "2016 may be called the year when the readjustment to the new economic environment has been completed. We assume 2017 will see economic stabilization with economic growth recovery, a stable exchange rate of the ruble and further decline of inflation and interest rates," Renaissance Capital's Chief Economist for Russia and CIS Oleg Kuzmin says.
Not the worst year
The beginning of 2016 was rather challenging for the Russian economy and pessimistic given that in January Brent crude oil price dropped to $27.1 per barrel hitting the lowest level since 2003. The British Standard Chartered even projected a decrease of the Brent crude oil price to $10 per barrel.
Nevertheless, the pessimistic forecasts did not come true as Brent rose to $40 per barrel by April, a 48% increase versus January's lows. By the end of the first quarter the average price of Urals crude oil was $36.53 per barrel, while Russia's GDP contraction amounted to 1.2% for the first three months of 2016.
On the whole, however, this year has not turned out so difficult as its beginning, and certainly not so hard as the crisis 2015. "I would not say that 2016 was too hard. Probably, 2015 was the most difficult after the crisis of the end of 2014," Vladimir Tikhomirov, chief economist at BCS Financial Group, says.
In 2015, Russia's GDP dropped by 3.7%, while annual inflation stood at 12.9%. Since the start of this year the Russian national currency has increased versus the dollar by 16%, while Brent crude oil price has surged more than 2-fold by now compared with January's lows. Meanwhile, GDP contraction in annual terms slowed down to 0.4% in Q3 from 1.2% in Q1. "The bulk of this year has seen a crisis, a recession. Though the decline rates were substantially slowing down and apparently by the end of the year, in Q4, we've most likely reached zero growth rates. Probably, there will be a slight economic growth within 0.1%. But still, 2016 has seen some kind of stabilization. In 2017, we might see a slight economic growth after two years of recession," Tikhomirov says.
Also, annual inflation has slowed down from 9.8% in January to 5.8% in November, and inflationary expectations have lowered, which enabled the Central Bank to reduce its key interest rate by 100 basis points to 10% per annum this year. "We've seen positive signs in the second half of the year, meaning a stable ruble and a decline in inflation higher than expected," Oleg Kuzmin adds.
What is in store for economy and oil in 2017
Positive expectations of experts, who project economic recovery for 2017, are tied with the hopes for a higher average oil price, as well as global events in the second half of 2016. This period has seen OPEC member-states and non-OPEC members reach an agreement on oil production cap, the privatization of Alrosa, Bashneft and Rosneft, as well as presidential elections in the United States and a hike in the US Federal Reserve base interest rate for the first time this year. On the whole, the majority of those factors may become a positive external background to spur Russia's economic growth. According to Central Bank Chief Elvira Nabiullina, the fact that the agreement on oil production cut has been reached increases the possibility of oil prices going up.
Since the time the decision on daily oil output reduction by 1.164 mln barrels per day to 32.5 mln barrels was made at the OPEC summit in end-November the price of Brent crude oil has surged by 20%. Later 11 more countries joined the initiative in December, saying they would cut production by another 558,000 barrels per day in the first half of next year. Thus, the total crude output reduction will total 1.7-1.8 mln barrels per day.
"As for 2017, all depends on how the situation in the global economy and regarding the demand for commodities, first of all for oil, unfolds. I think the oil prices will stabilize at the level of $58 per barrel for Brent and $56 per barrel for Urals, economic growth will equal 1.2%, inflation will be around 5% by the end of 2017 and the ruble's exchange rate will be about 60 rubles per dollar," Vladimir Tikhomirov says, adding that if average price for Brent crude oil stands at $58 per barrel budget deficit may be below 2% of GDP in 2017.
Renaissance Capital expects GDP growth of 1.6%, budget deficit of 1.7% of GDP and the dollar's average exchange rate of 63.5 rubles for 2017 with the average price of Brent crude oil of $50 per barrel. "If the average oil price is closer to $60 per barrel in 2017 GDP growth may exceed 2%, budget deficit will be within 1% and the dollar's exchange rate may be below 60 rubles mark," Oleg Kuzmin says.
The successful privatization of Russia's state-owned companies – Alrosa, Bashneft and Rosneft – that has been finalized in 2016, may also back the country's economy next year. Prime Minister Dmitry Medvedev said the privatization of a 19.5% stake in Rosneft has enabled the government to solve the budget issues. Later Energy Minister Alexander Novak said that Rosneft privatization deal has highlighted the attractiveness of the Russian oil market and the inefficiency of the anti-Russia sanctions policy.