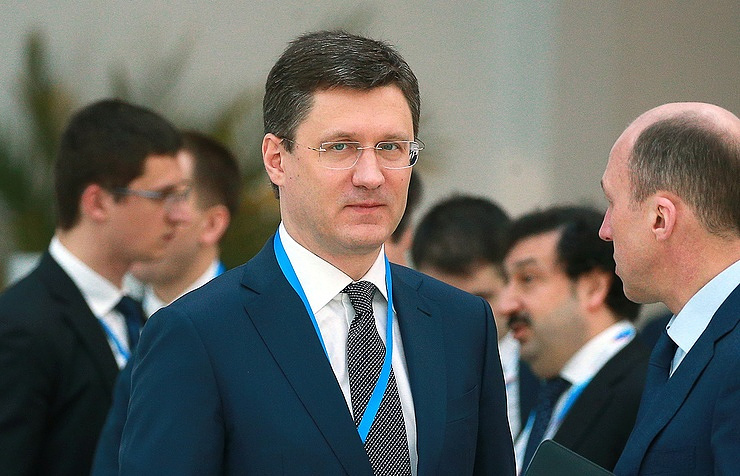 Russia's oil and gas sector has weathered the US sanctions successfully and increased oil output by 400,000 barrels over the past two years, Russian Energy Minister Alexander Novak stated at a ministerial session of the CERAWeek conference on Monday.
"Despite the sanctions that were imposed on a number of our companies, our oil and gas sector has managed not only to pull through the difficulties, but even to demonstrate upturns. In the past two years, Russia's oil output has risen by 400,000 barrels," the energy minister emphasized.
"The financial status of our companies is by far much better than many foreign companies," he continued. "They have a small debt load, the debt/EBITDA ration of less than 1, and a small credit indebtedness."
"Our companies have managed to build up output volumes and, on top of that, to beef up efficiency and to bring down the prime costs that stand at $10 to $15 per barrel on the average," Novak pointed out. He said the returns on Russian oil and gas projects were among the world's highest.
"Opportunities for cooperation in the energy sector yield good economic results and have bright investment prospects," Novak elaborated, adding that foreign investors account for about 25% of Russia's overall output. "We are open (for cooperation) and want foreign companies to take part in the implementation of projects in Russia," he indicated.
Novak said Russia's Energy Ministry sees great interest from American companies on investing in the country. "Naturally, today we maintain contacts with many businessmen and we sense a great interest in Russia," he told the CERAWeek conference
On OPEC membership
The minister said Moscow was not mulling OPEC membership, yet it believes cooperation with the oil cartel should develop. "Let me put it frankly, we're not considering the possibility of Russia's membership in OPEC but our collaboration with oil exporting countries has proved to be vital and prudent," he noted.
He stressed the need for cooperation with OPEC, adding that its absence resulted in a shortfall of about $500 bln of investment in the global oil industry in recent years.
Russia will account for 15% of the LNG market by 2040, Novak highlighted. "Our strategy provides for an eight-fold surge in Russia's LNG production by 2040. Whereas the country's current share of the LNG market is about five percent, we plan to increase it to 15%," he said at a CERAWeek conference in Houston.
Global gas consumption will increase by two trillion cubic meters by 2040 to reach 5.5 trillion cubic meters, noted the Russian Energy Minister. "Whereas the current gas consumption is about 3.5 trillion cubic meters, by the year 2040 it is to go up to 5.5 trillion cubic meters. Correspondingly, much of this gas to be produced requires big investments," he said at a CERAWeek forum in Houston.
On Russia's hydrocarbon reserves
Minister Novak stated that Russia's hydrocarbon reserves are enough for at least 50 years.
"We have reserves of oil and gas that will be enough for more than 50 years and it said about proven reserves only. Huge potential is on the shelf, in the Arctic. We have other projects that will be implemented in the future," he said.
Novak believes that the share of hydrocarbons will diminish but insignificantly down to 75% from 80%. Somewhat earlier, Novak said the output capacity of power generating facilities based on renewable sources of energy might reach roughly 3% of the current installed capacity of power plants by 2024, while demand for hydrocarbons would continue growing all the way up to 2040 as a minimum.