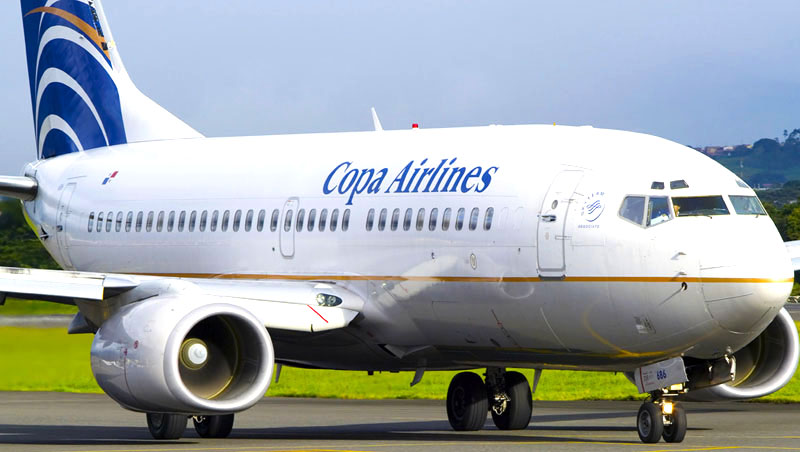 Panama's Copa Airlines managed to remain profitable in 2015 in what was the most challenging year that the airline had faced in decades. A contracting economy in Latin America, driven by Brazil's crippling economic weakness, created significant challenges for all airlines operating in the region. Copa posted double digit declines in yields and passenger unit revenues for the year, which helped to erode the benefits of lower fuel costs on the airline's profitability. Its net income plummeted nearly 49% year-on-year.
Throughout 2015 and into 2016 Copa is making capacity and fleet adjustments to combat the economic realities in Latin America. But the airline is not taking an optimistic view with its passenger unit revenue guidance for 2016, which is lower than 2015's performance even though Copa anticipates some faint signs of stability emerging in 2H2016.
For now, it seems that all that any Latin American airline can do is attempt to reset their networks in order to diminish their exposure to the weakest areas in the region. Copa is making all the necessary moves to withstand the economic pressure, but in the short term its margins and profits will continue to fall below historical highs.
Copa's 2015 profit sinks as weak economies drive double digit yield decreases
Brazil's recession (its economy shrank by roughly 3% in 2015), Venezuela's economic collapse, and currency pressure coalesced to wreak havoc on Latin American airlines in 2015. Copa's operating margins fell 7.4ppt year-on-year to 11.8%. Its yields sank 19%, driving a 20.8% decline in passenger unit revenues.
Copa's yield degradation offset the nearly 29% drop in fuel costs per gallon that the airline paid in 2015, resulting in a slide in profits to USD185 million, from USD362 million the year prior.
Copa also posted a non-cash loss of USD25 million stemming from the settling of mark to market rates in its fuel hedging contracts.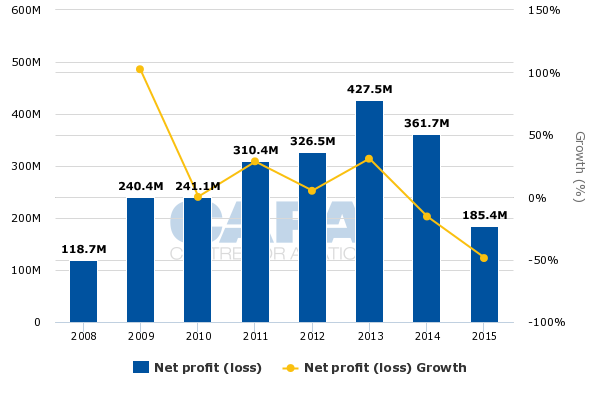 After 1Q2015, Copa's yields and passenger unit revenues began falling in the 20% range year-on-year in each quarter. The significant declines were driven by economic weakness across Latin America and currency devaluation. At one point in 2015 Brazil's currency fell 38% against the USD, and the valuation of Colombia's COP fell 53%.
Throughout 2015 Copa worked to mitigate the weakness in Brazil by slashing capacity to the country. It cut frequencies from Panama City Tocumen to Belo Horizonte, Brasília, Porto Alegre and São Paulo Guarulhos. In early 2016, the airline eliminated service to Campinas Viracopos.
In early 2016, company executives stated that Copa's capacity to Brazil had fallen 30% year-on-year. The airline management estimated that yields in Brazil were negative 5% year-on-year in 1Q2016, and were flat in Colombia.
Even with the cuts to Brazil, the country remains Copa's fifth largest international market measured by seat deployment for the week of 29-Feb-2016 to 6-Mar-2016.
Copa Airlines international capacity by country measured by seats: 29-Feb-2016 to 6-Mar-2016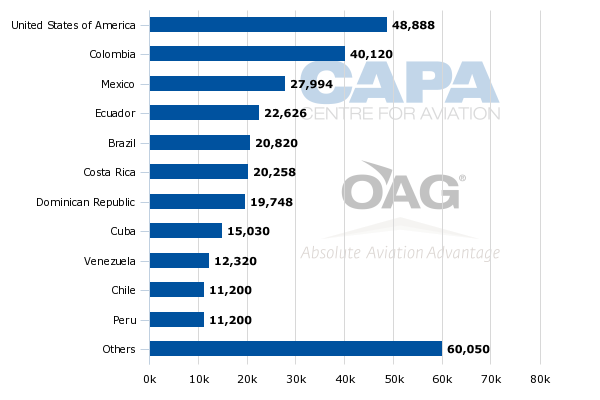 In Feb-2016 the Copa CEO, Pedro Heilbron, stated that some of the capacity from Brazil was redirected toward the new daily service launched to San Francisco late in 2015. However, most the capacity cut from routes to Brazil "is not flying right now", he concluded. "We're going to open additional frequencies to other markets, we've done a little of that. And we end up having additional surplus aircraft before the end of the year".
Colombia is Copa's second largest international market by seat deployment. During the last three to four years Copa has opted to put less emphasis on domestic operations within Colombia; instead, its Copa Colombia subsidiary operates mostly international flights from the country.
Copa works to optimise fleet flexibility to adjust capacity to demand
During 2015 Copa added new service from Panama City to David Enrique airport in Panama, Puebla and Villahermosa, Mexico, New Orleans and San Francisco in the US and Belize. Mr Heilbron stated that Copa is likely to add fewer new destinations in 2015. It recently announced new service to Holguin, Cuba beginning in Jun-2016. Holguin is the airline's third destination in Cuba; at present Copa operates service to Havana and Santa Clara.
The airline's capacity growth slowed to 4.4% in 2015 after expanding 9.5% in 2014 and 14.4% in 2013.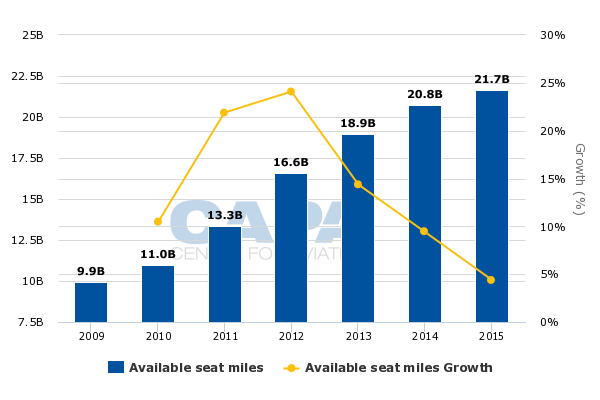 For 2016 and 2017 Copa is deferring one aircraft delivery for each year. During 2016 Copa is taking delivery of a single 737 and returning two aircraft with lease expirations in 3Q2016, for a net addition of a single aircraft.
Similarly to other airlines, Copa is citing the need for some fleet flexibility if it needs to further reduce capacity. It could sublease aircraft in agreements in a similar way to the deal that it reached with United in 2015 – to sublease two aircraft to the US network airline – and in 2017 there are six scheduled lease expirations in its fleet.
The company is drawing some scrutiny for its planned 3% capacity growth in 2016, given the macroeconomic environment in Latin America. Mr Heilbron stated that most of the growth is driven by the full-year effect of new route additions and upgauging some routes to 737-800s from Embraer 190s. He concluded that the -800 offers a lower unit cost and is a more profitable aircraft.
Mr Heilbron's message is overall that Copa is being judicious with its capacity plans.
He explained that Copa is being more thorough in managing capacity during low seasons by parking aircraft and reducing capacity. "Obviously we will react to demand as we see it in the coming months", he stated.