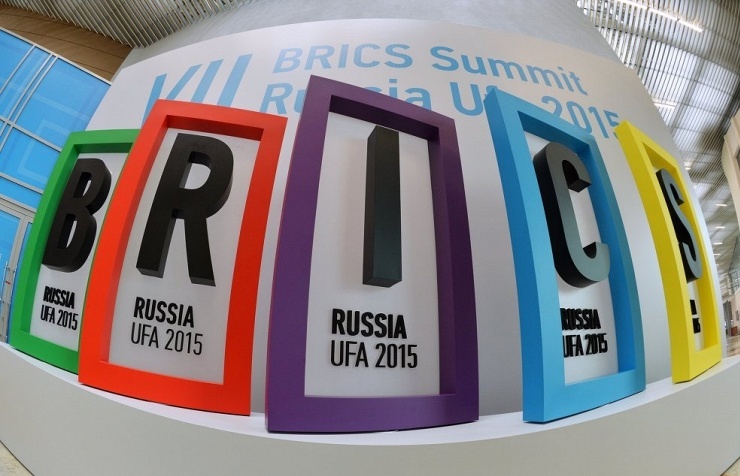 Large-scale economic partnership has become a priority in BRICS development, Professor at the School of International Studies of Jawaharlal Nehru University in New Delhi Arun Mohanty told TASS First Deputy Director General Mikhail Gusman on Wednesday.
"Economic cooperation, along with security issues and creating new financial institutions, is for the first time on top of the agenda at the BRICS summit in Ufa, which makes it truly historical," Mohanty said. "All BRICS countries stand for sustainable and inclusive economic development. Though there are differences in the economic development models adopted by the member-states of BRICS, they have found common ground for resolving macroeconomic issues and are keen to promote joint projects. The group has not adopted any big economic project so far. But the Ufa BRICS summit is going to be a landmark event in this sense," he continued.
The expert stressed that BRICS countries "consider and discuss with great interest several ideas proposed by the Russian side." "Russia has proposed to set up BRICS energy association, which would help bring stability to the global energy market and help promote energy interest of each BRICS member state," he reminded.
"President [Vladimir] Putin has offered to jointly use Russian GLONASS system that would help raise agricultural output by 30-50%," Mohanty said. "BRICS member-states control from 30 to 60% of reserves of various resources. In this connection, Russian proposal for BRICS joint cooperation in mining and processing industry is no doubt interesting. Russia's proposal for setting up a center for training of experts in metal industry is also very promising," the expert concluded.
BRICS is an association of five major emerging economies — Brazil, Russia, India, China and South Africa — founded in June 2006. The first official summit took place in June 2009 in Russia's Yekaterinburg. Since then, meetings at the highest level are held annually in member-countries. The last summit took place in Brazil. On April 1, Russia accepted BRICS presidency.