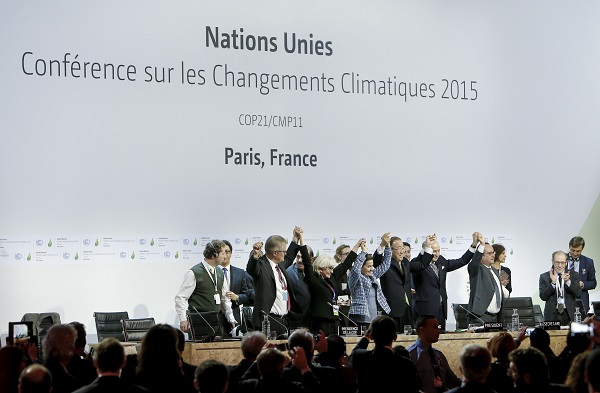 After French Foreign Minister Laurent Fabius, in Paris, declared a historic climate pact adopted, China has urged for implementation while stressing that the agreement is "not perfect".
The Paris agreement on climate change was adopted with no objection by the 196 Parties of the United Nations Framework Convention on Climate Change (UNFCCC) during the 21st session of the Conference of the Parties (COP21) hosted by France. The Paris pact will, however, not be a fully legally binding treaty.
China, "as a responsible developing country, will take international obligations commensurate with its own national condition, development stage and actual capacity" state news agency Xinhua quoted China's Special Representative on Climate Change Xie Zhenhua as saying.
"The Paris Climate Conference is a crucial point in the global climate governance process," Xie said after the adoption of the Paris climate accord that will begin scaling back carbon emissions which are heating the planet at a rapid rate.
"Although the agreement is not perfect, it does not stop us from moving a historical step forward," Xie said, calling on developed countries to abide by their promises to provide finance, technology development and transfer, and capacity building to developing countries.
"China is willing to work together with all parties, in accordance with the principles of the UNFCCC, toward implementing the Paris agreement," Xie said.
As the weeks-long negotiation in Paris entered its final stretch, Chinese President Xi Jinping on Friday spoke with his US counterpart Barack Obama to seek a global deal even as differences persisted between developed and developing countries on the Paris draft.
Indian Environment Minister Prakash Javadekar, who was heading the Indian team in Paris, also held talks with Chinese officials ahead of the final draft approval.
Both New Delhi and Beijing had reiterated that they will not budge from the principle of common but differentiated responsibilities across all elements of the Paris agreement.
There were some crucial wins for developing countries like India in the final agreement.
Chinese and Indian leaders had repeatedly urged developed countries to adhere to their pledge to provide $100 billion annually to developing nations by 2020 in order to give up fossil fuels and shore up defenses against climate-driven food scarcity, heat waves and storm damage.
New Delhi had, earlier last week, termed as "disappointing" the issue of finance, saying while developed countries failed to fulfill their obligations, they are also trying to "shift" their responsibility to developing nations.
The final Paris accord has agreed that rich nations need to maintain a $100 billion a year funding pledge beyond 2020, and use that figure as a "floor" for further support agreed by 2025.
There will be stock-taking of the pact in 2023, although countries like China will be allowed to extend that to 2030, as announced in the agreement. There will be further reviews every five years to "ratchet up" the measures adopted in 2015, if the need arises.
Scientists say the extensively high level of carbon emissions have already created significant global warming which has caused flooding and higher-than-normal temperatures in Australia and much of the Middle East.
Hailing the Paris agreement as "what was once unthinkable is now unstoppable," UN Secretary-General Ban Ki-moon said it demonstrates solidarity.
Obama, on Saturday, called the agreement "a turning point for the world".
"This agreement sends a powerful signal that the world is firmly committed to a low-carbon future," said Obama in a televised speech. "This agreement represents the best chance we've had to save the one planet that we've got."
The Paris agreement runs to 32 pages with 29 articles, including objective, mitigation, adaptation, loss and damage, finance, technology development and transfer, capacity building, and transparency of action and support.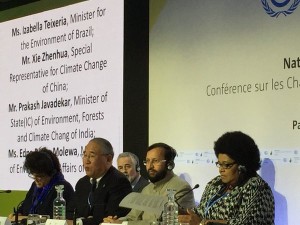 On the basis of equity and common but differentiated responsibilities and respective capabilities, the Paris agreement aims to hold global average temperature rise to "well below" 2 degrees Celsius above pre-industrial levels.
Finnish environment and development organizations said in a joint statement on Saturday night that the measures the governments have pledged may not be enough to reach the temperature goals, calling for more efforts to tackle the global issue.