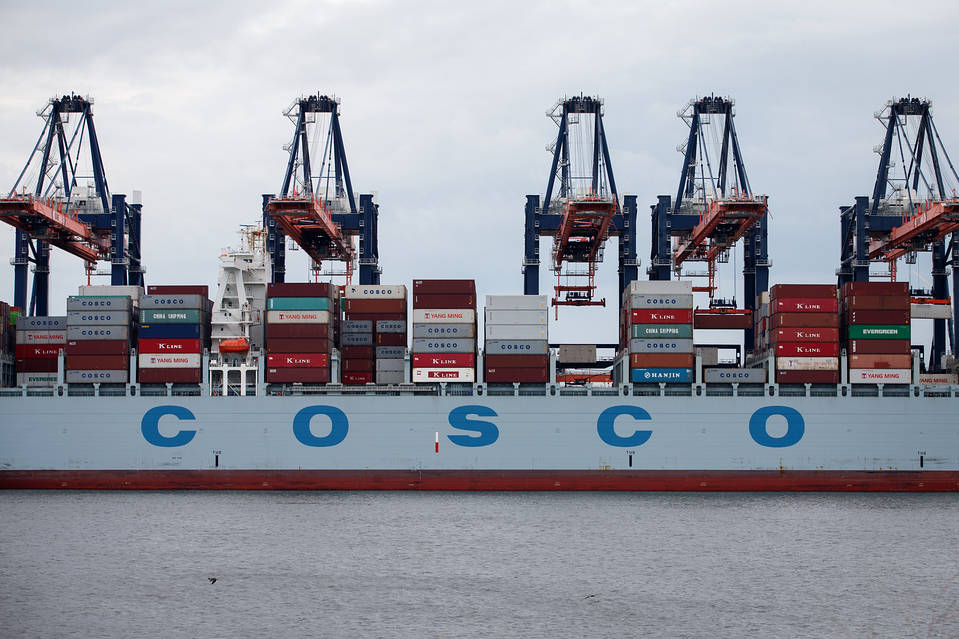 China's two biggest shipping companies plan to issue details of their multibillion-dollar merger plans as early as Friday, according to people with knowledge of the matter.
The proposed merger of state-owned China Ocean Shipping Co., or Cosco Group, and China Shipping Group Co. will combine the two companies' container-shipping operations to create the world's fourth-largest container-shipping line, people familiar with the situation said.
The plans could also cover other business divisions that include commodities shipping, port and logistics operations and oil-tanker operations, the people said.
A person familiar with the situation said earlier that the value of the merger, should it be limited to the container-shipping operations, may range between $10 billion and $20 billion, based on the market capitalization of the two parent companies' listed units and after any divestitures. But if a merger included all the two companies' assets, the combined value of the new entity would be around $80 billion.
The possible merger of China's two major shipping groups comes as the nation is attempting to reform its state-owned businesses, in hopes of creating bigger and stronger national champions that can better compete abroad.
China's shipping companies have been hard hit by the nation's economic slowdown, compounded by the persistent global oversupply in shipping capacity. Beijing is also pushing two other state shipping companies, China Merchants Energy Shipping Co.and Sinotrans & CSC Holdings Co., to merge some units, though talks are at an early stage.
Rampant overcapacity is hurting even the world's biggest shipping lines, forcing some companies into alliances and cost-cutting. Reducing the oversupply of ships is taking longer than industry observers had anticipated, with some analysts estimating the overcapacity in container shipping to run at 30%.
On Monday, French shipping company CMA CGM SA entered a deal to buy Singapore's Neptune Orient Lines Ltd. for about $2.4 billion, a deal that would provide some consolidation in the container-shipping fleet.
Experts cautioned Cosco and China Shipping's potential merger because of complicated business structures, potential bureaucratic infighting and layoff costs.
"The cost of merging the two companies will be far more than the benefit," said Xu Jianhua, a professor at Shanghai Maritime University, citing China's poor record in the government-directed merger of China National Foreign Trade Transportation Corp. and China Changjiang National Shipping Group Corp. in 2009.
The deal hasn't had the synergy effect as expected, said Mr. Xu. Instead, the combined company has been struggling with declining profit for years.
Analysts also pointed to the hurdles the companies may face from minority shareholders of their listed units, who will have to give approval to the tie-up.
"There is a very high risk that the plans are not able to be executed due to minority's objection," brokerage Jefferies said in a recent note.
"Majority approval of these minority shareholders is required to pass any motions for connected transaction, which can be challenging since the company has little influence over these minority investors' decision," the brokerage said.
The listed units of both shipping groups, which include China Cosco Holdings Co. and China Shipping Container Lines Co., have halted share trading since August.
The companies have said their controlling shareholders are considering a significant matter that may involve "relatively complicated" asset restructuring of the two groups.