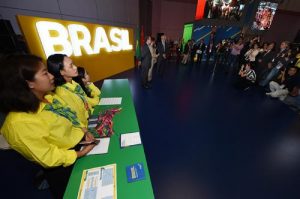 Brazil's participation in the second edition of the China International Import Exhibition, to be held in Shanghai at the end of 2019, began to be prepared recently in São Paulo, according to the Brazilian press.
The preparation began with a business forum organised by the Federation of Industries of the State of São Paulo (FIESP), the Brazilian Agency for the Promotion of Exports and Investments (Apex-Brasil), the National Confederation of Industry (CNI), the Chinese exhibition's organisation department in Shanghai and the Chinese Consulate General in São Paulo.
The event was opened by Chinese Consul General Chen Peijie, who noted the level of diplomatic and trade relations between Brazil and China, elevated to the level of Comprehensive Strategic Partnership.
Stressing the importance for the Brazilian business world of doing business with China and bringing Brazilian products of high added value to the shelves of Chinese stores and supermarkets, the representatives of the business associations announced that registrations are now open for Brazilian companies to take part in China import fair.
The China International Import Exhibition is a multi-sector fair organised by the Ministry of Commerce of China that promotes imports of foreign products.
The first edition, held this year, was attended by companies from more than 120 countries, who exhibited their products in an area of 240,000 square metres, as well as more than 300,000 buyers.