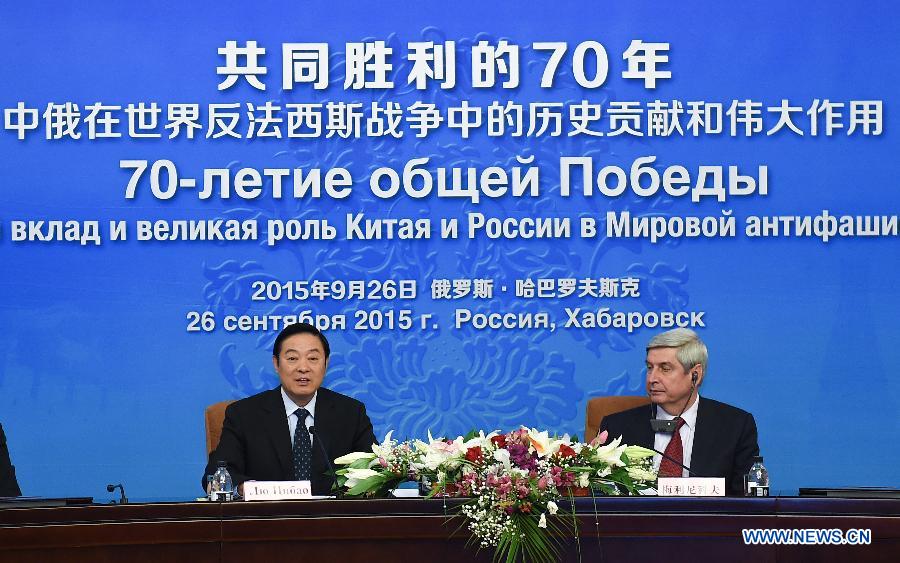 Liu Qibao, head of the Publicity Department of the Central Committee of the Communist Party of China (CPC), visited the Russian city from Sept. 23-27, attended a series of activities designed by both sides to commemorate the 70th anniversary of the victory in the World Anti-Fascist War, including an international seminar titled "70-Year Common Victory" co-organized by the CPC and the Communist Party of Russian Federation.
While his meeting with Ivan Melnikov, vice chairman of the Communist Party of Russian Federation and State Duma's Deputy Speaker in Khabarovsk, a city in the far east of Russia, Liu Qibao noted that commemorative events jointly organized by the parties in the far East of Russia, became an important part of the series of festive events in honor of the 70th anniversary of the Victory in world anti-fascist war, celebrated by China and Russia. They are also important to promote regional cooperation between North-East China and Russian Far East.
"We are willing to step up exchange with the Communist Party of the Russian Federation and promote the cause of Sino-Russian friendship," said Liu, who is also a member of the Political Bureau of the CPC Central Committee.
While saying Russia and China have laid a solid foundation of friendship through the battles the two peoples have fought together and the shared memories of the past, Liu believed the activities organized were of great significance for advancing cooperation between the Northeast of China and the Far East of Russia.
Liu Qibao visited the site of the former camp of the North-eastern anti-Japanese united army near Khabarovsk, where he familiarized with the works on the construction of the memorial complex. Liu Qibao stressed that it is very important, because this historic site is the witness of friendship between the Chinese and Russian peoples, and an important object that keeps the truth about the history of the Second World War.
In addition, Liu Qibao visited the Russian World War II veteran Lev Abramov, who participated in anti-Japanese liberation war in China. Liu Qibao pointed out that we should always remember that historical feat made by war veterans for the Victory.