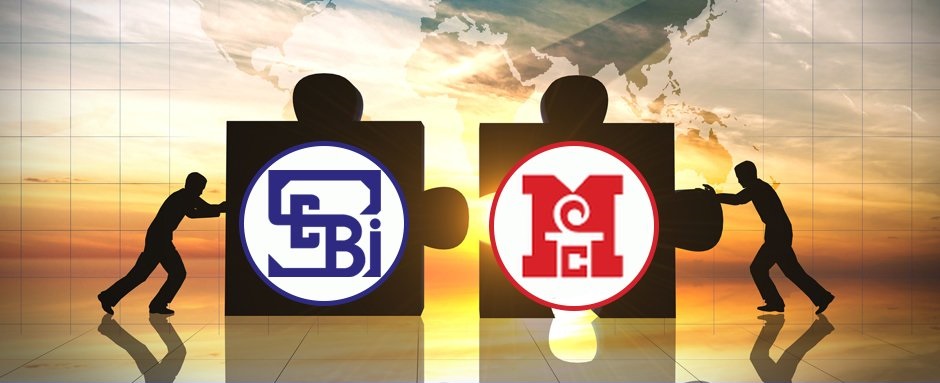 In the first ever merger of two regulators, the over 60-year-old FMC (Forward Markets Commission) has been merged with the younger, but much bigger, capital markets watchdog Sebi to create a unified regulatory body.
Taking forward the announcement made by Finance Minister Arun Jaitley in his budget speech earlier this year, FMC has been merged with Sebi.
The merger function was attended by Jaitley himself, along with Sebi Chairman U K Sinha and other top officials from the government and the regulatory bodies.
Jaitley said FMC merger will bring convergence, widen size and scope of markets; Sebi must ensure commodities trading is free of speculation: FM.
He added, " India is no longer satisfied with 6-8% growth. There is a need to continue to change with times, evolve and bring reforms: FM Arun Jaitley.
While speaking at the event, Sebi chairman UK Sinha said that the first priority after the FMC merger is to develop trust in the commodities market. He said that all steps will be taken to develop the market.
The Securities and Exchange Board of India (Sebi) was set up in 1988 as a non-statutory body for regulating the securities markets, while it became an autonomous body in 1992 with fully-independent powers.
FMC, on the other hand, has been regulating the commodities markets since 1953, but lack of powers has led to wild fluctuations and alleged irregularities remaining untamed in this market segment.
The commodities market has been known to be more prone to speculative activities compared to the better-regulated stock market, while illegal activities like 'dabba trading' have also been more frequent in this segment.
Besides, the high-profile NSEL scam that rocked this market in the recent past, and the subsequent regulatory and government interventions in this case eventually led to the government announcing FMC's merger with Sebi.
This is the first major case of two regulators being merged, as against the relatively more frequent practice wordlwide of creating new regulatory authorities, including by carving out new bodies from the existing entities.
Ready to regulate commodity trading, Sinha has cautioned small investors against coming for quick gains through speculation in this market, saying this is "risky" and requires a lot of technical expertise.
"People will come and tell you that with a small margin, you can make a lot of money. Do not fall into the trap," the Sebi Chairman had said, even as he asserted that the capital markets watchdog was fully prepared to begin regulating commodities trading and all necessary safeguards would be put in place to keep the scamsters and manipulators at bay.
Sinha said his message to the small investors would be to keep away from the commodities market as it was meant for the experts and for those seeking to hedge their risks.
"If you put your hard-earned money into this market, it may not be ultimately good for you. The commodities market is for those who are experts in this space. For non-experts, it is a risky area," the Sebi chief had told PTI in an interview.
FMC's merger with Sebi is aimed at streamlining the regulations and curb wild speculations in commodities market, while facilitating further growth of the market.
At present, there are three national and six regional bourses for commodity futures in the country. Together, all the exchanges clocked a turnover of nearly Rs 60 lakh crore in 2014-15, from over Rs 101 lakh crore in the previous fiscal.
Asked about the preparedness for regulating the commodities market and his assurance to investors, Sinha said Sebi has got more than 15 years of experience of managing and regulating the derivatives trading.
While necessary regulations have been notified to bring into effect the merger, Sebi has also created a separate Commodity Cell and has set up new departments for regulation of commodities derivatives market.
In the run-up to the merger, Sebi and the government have notified all enabling regulations including amendments to various existing norms. An internal committee was earlier set up at Sebi to evaluate and suggest regulatory changes for merger and prepare a roadmap for the same.
Sebi has formed a Commodity Cell by posting its senior officials, while two internal departmental committees (one each in Integrated Surveillance Department and Market Intermediaries Regulation and Supervision Department) have been set up.
Sebi has also sought help from Agriculture Ministry with regard to the data sources for the prices and to improve the methodology for determination of final settlement price.
The structure and manpower strength of divisions and departments handling the responsibility of regulating the commodity derivatives markets has been finalised.
The manpower requirement will be met with the officers from FMC (both cadre and deputation) and by new hiring.
Till new recruitments are done, suitable officers have been drawn from various Sebi departments. Post-merger, as the divisions start carrying out the activities on a regular basis, based on the volume of work, an assessment of the exact manpower requirement will be carried out in near to mid-term, that is 6-8 months post-merger.
Earlier, presentations were made by FMC, exchanges and others including investor associations and outside experts, on operations and other issues in commodity derivatives markets.
A series of interactions by way of conference calls is also being held with officials of the US commodities markets regulator CFTC to understand the regulatory framework in that country including on risk management, product design, member regulation and surveillance.
Sebi visited FMC, exchanges, mandis, warehouses, assayers and gold vaults in Gujarat and Delhi among other places.
Currently, there are 12 recognised commodity exchanges, out of which six are non-operational. The operational exchanges include three national and three regional bourses.
FMC has already issued directions to non-operational exchanges including for refund of client money, resolving client disputes and refund of member deposits.
Recently, notifications were issued for absorbing seven director-level officers of FMC by Sebi, 41 other employees will become part of the central government employees' pool.