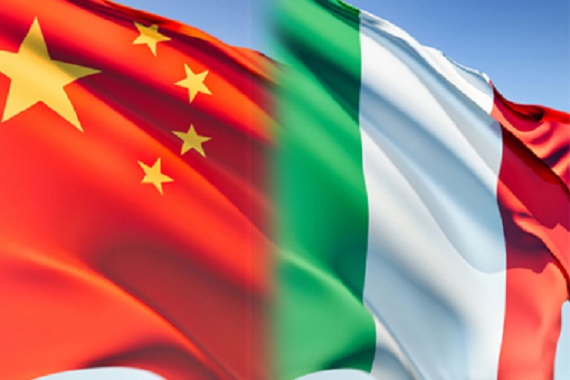 BERGAMO – Chinese investments in Italy have recently increased in a variety of sectors and can be a driver for the internationalization of Italian companies, experts from the two countries said at a conference held here in Bergamo, a city of northern Italy, on Wednesday.
Until a few years ago, Italy was only marginally touched by Chinese investments, noted Francesca Spigarelli, rector's delegate for entrepreneurship and technological transfer at the University of Macerata. The interest grew with the going-out strategy pursued by Chinese companies in recent years, she went on saying, until 2014 became the "golden year of Chinese investments in Italy."
According to figures presented at the conference, Chinese foreign direct investment (FDI) in Italy amounted to $887 million in 2014, quadrupled compared to 2011, and portfolio investments to $3.7 billion.
Among the largest investments, Shanghai Electric purchased a 40-percent stake in power engineering company Ansaldo Energia, China's State Grid Corp invested more than 2 billion euros ($2.1 billion) in energy-grid holding company CDP Reti, and Shenzhen Marisfrolg bought Krizia, one of Italy's oldest ready-to-wear fashion brands.
"What is particularly worth noticing is that in all the operations that have come to the public eye the Chinese stake is just over 2 percent, the threshold to make public a company's presence as a shareholder in Italy," Spigarelli told Xinhua in an interview on the sidelines of the conference.
In her view, this implies that the Chinese investors decided not to keep as low of a profile but openly supported Italy in times of economic difficulties and before the world's eyes. "I read it as a very positive message, a sign of collaboration and friendship with Italy," she pointed out.
Spigarelli also said that Chinese investments are a "big opportunity for Italy to revitalize crisis-hit companies or even entire sectors." It is because Chinese investors, she noted, aim at both setting themselves up in Italy but also exporting Italian products, services and knowledge to China.
"When an Italian small- or medium-size company (SME) is taken over, a new market opens that would otherwise be impossible to explore. I call this process 'passive internationalization' which means that Chinese acquisitions allow Italian SMEs to go international," she explained to Xinhua.
"China wants to invest in Italy and Italy wants China's investments," confirmed Li Shaofeng, head of the economic and commercial section of the Consulate General of China in Milan, in his address to the conference. Li said that China over the past two years has increased its investments in the world, becoming a central driver of capitals and markets for Italy.
He highlighted, however, that many difficulties hamper the flow of investments. Heavy bureaucracy and lack of human resources are the biggest obstacles for many Chinese companies willing to invest in Italy, Li said, calling for more dialogue and collaboration to overcome these walls.
Some local institutions have realized the importance of bilateral communication and are working to ease collaboration between companies of the two countries, Pier Luigi Streparava, President of the Milan-based Italy-China Chamber of Commerce, told Xinhua.
The Italy-China Chamber of Commerce, which on Thursday will celebrate the 45th anniversary of its foundation along with the establishment of diplomatic ties between China and Italy, over the past two years has particularly focused on the need of Chinese investors in Italy, Streparava said.
"We have recently shifted our attention from Italian companies wanting to invest in China to Chinese companies wanting to invest in Italy," he explained to Xinhua. "To this extent, we have also introduced Chinese members into our board of directors, which says a lot on new possible Chinese initiatives in Italy," he stressed.
Strong support is also coming from the Chinese side, said Jin Yangkun, General Manager of ICBC Europe S.A. Milan Branch. Exactly one month ago, he noted, the second ICBC branch in Italy was opened in capital Rome, after the first one had been opened in Milan, the country's main economic hub, in 2011.
"We have established our branches in Italy not only to provide financial support for the investments, but especially to be a cultural bridge between Chinese and Italian companies," Jin highlighted. He underlined that ICBC was particularly ready to support bilateral collaboration in infrastructures, a growingly important sector for Chinese investments in Italy in the coming years.