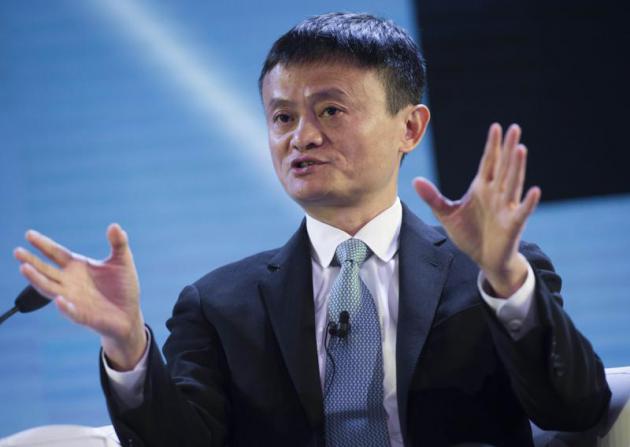 The self-made Chinese billionaire who built Alibaba-China's e-commerce giant whose sales now nearly match that of US retailing giant Walmart – yesterday called on a high-powered audience at the Asia-Pacific Economic Cooperation (Apec) CEO Summit to help the small guys left behind by globalisation.
Jack Ma is the single most anticipated corporate speaker at the Apec CEO Summit and his rags-to-riches journey has captured the global limelight especially after a landmark US$21.8-billion (S$30.9 billion) stock debut in New York last year.
His company is now valued by the market at US$198 billion, surpassing Walmart's US$185-billion market capitalisation although still lagging the US$300-billion valuation of rival Amazon.
When he built Alibaba with the help of 17 colleagues 16 years ago, Ma had told his team about his vision of how the Internet could change things. "I said one thing: If we can be successful, 80 per cent of the Chinese people can be successful because we are the people without resources, we are the people without money, we are the people without relationship and we are the people without even knowing the technology."
"We have to make sure Internet is simple enough so that people can just downclick and get what they want," he said, noting that Alibaba was designed to be a platform for everyone.
Out of this small band that built Alibaba, Ma noted that only two people knew something about technology while most of them, including himself, had graduated from "poor, low-level" universities in China.
To this date, Ma admitted that he himself only knew the basic stuff such as emailing, browsing and watching videos.
On other occasions, he had publicly admitted trying to enter Harvard University but got rejected 10 times.
When he first tried to raise money for Alibaba from venture capitalists 10 years ago, Ma said most only frowned upon his group and lamented the poor infrastructure in China. But he said it was precisely this poor infrastructure in China that was partly responsible for driving consumers into the Internet space faster than the penetration in the US.
"In America, there's Walmart, K-mart, retailers are everywhere. E-commerce is just like a dessert. In China, e-commerce is the main course," Ma said.
Alibaba, which controls 80 per cent of the e-commerce business in China-a nation of a billion people-expects sales to reach US$500 million this year, almost the same as Walmart's turnover last year. This platform now sells more than US-based Amazon and e-Bay combined.
But Ma said he was worried about how globalisation had sidelined the small guys, noting that in the last 15 years, the dismantling of cross- border trade barriers had only made the big global companies become more prosperous.
"So what we should do is help the small guys and the young people; otherwise, we will have more disasters coming," Ma said.
Ma's proposal is to provide duty-free accommodations to small businesses that sell goods to other nations alongside the building of stronger payment and logistics infrastructure.
For its part, Ma said Alibaba had already helped 12 million businesses using its platform to sell online. "So we believe if this model works in China, why can't it work in other nations?" he said.
Ma said Alibaba's is a business anchored on the small guys, explaining why this company was precisely branded as such. Ma said Alibaba was the one doing the "open sesame," using this platform to distribute and let others benefit.
In Davos, referring to the wintry place where the World Economic Forum holds its annual meetings, Ma said he was shocked to see people protesting globalisation. In China, he said globalisation only denoted good things.
"We think that wherever country you are, whatever size of company you are in, trade is a freedom, trade is a human right. Trade should not be used as a tool against other nations," Ma said.
Ma said the global community should agree on some trade deals that would help the small guys, lamenting that the Doha round under the World Trade Organisation was still yet to be concluded till now. Part of the plan for the Doha round was to provide better trade terms for the world's least developed countries.
The Chinese billionaire said the global community must build a more transparent and more inclusive growth where more people would be empowered and to help young people "because we are entering a world that should be innovative."
"There are a lot of problems but this is my philosophy: Today is difficult. Tomorrow is much more difficult but the day after tomorrow is beautiful. Most people will die tomorrow evening," he said, drawing applause from the audience."