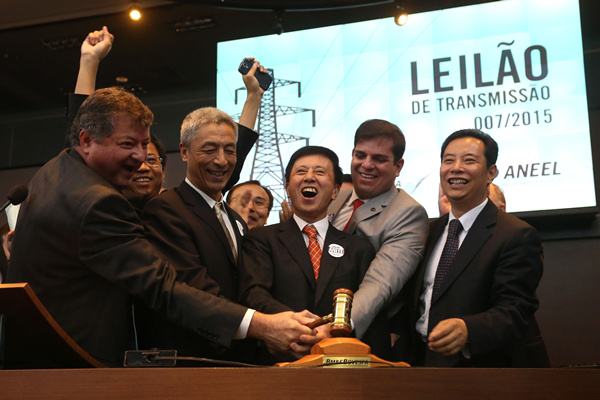 Brazil's slumping economy suffered another hit earlier this month when its credit rating was slashed to junk status by Standard & Poor's (S&P). Chinese companies in Brazil, however, are facing the economic turbulence in South America's largest economy with confidence, seeing opportunities and strengthening their own operations.
Since the beginning of 2015, the Brazilian economy has done poorly, increasing the pessimistic outlook by markets. New official data showed that Brazil's economy will shrink by 2.1 percent, annual inflation rate will be 9.25 percent and the unemployment rate will almost reach 9 percent.
Brazil's current economic crisis is dampening the public's confidence in the economy, local daily O Globo said. The National Confidence Index (INC), which measures Brazilians' confidence in the country's economy, fell to the lowest level since the indicator was created in 2005, the newspaper reported, citing the Sao Paulo Trade Association.
The economy's latest blow earlier this month when S&P lowered Brazil's credit rating to BB+, or the first level of the "junk" category.
Zhang Guanghua, vice-president of the Bank of China's Brazil subsidiary, thinks Brazil's economic difficulties also present opportunities.
According to him, the economic downturn has caused the Brazilian government to consider opening up more investment opportunities in infrastructure projects such as railway, road and port projects. It's expected that in the next two years the investment policy in Brazil will be more transparent and open.
Meanwhile, some of Brazil's quality assets not previously open to the market have been up for grabs to overcome the economy's stagflation. Zhang gave state oil company Petrobras as an example, saying some of the company's drilling platforms are being sold because the company is trapped in a corruption scandal. "It's a good time to intervene," he added.
Since the first quarter of 2015, the Brazilian government has acted to counter the economy's poor performance. In an interview with local news TV channel Globonews, Brazilian Finance Minister Joaquim Levy also presented an optimistic outlook. "We stopped getting worse on a structural perspective, and we are now starting to get better," he said.
China's automaker Chery hopes to produce 10,000 vehicles at its Brazilian factory this year, and will soon expand its production and presence in the country. Peng Jian, Chery's president for Brazil, said the company is working hard to offer new options for Brazilian consumers .
He also believes now is the time for Chinese companies to improve their own capabilities and focus on long-term preparation to make it through the tough economic times.
The automotive industry in Brazil is facing a crisis, with production and sales down, and car manufacturers are laying off hundreds of qualified workers, but Chery is investing in expanding its operations.
However, Chinese companies in Brazil such as Chery still have a long way to go. Chery has been operating in Brazil for some years, but local consumers remain relatively unaccustomed to Chinese vehicles, and are much more used to the four big players in Brazil: Volkswagen, Generasl Motors, Ford and Fiat.
Zhang suggested that Chinese companies investing in Brazil strictly adhere to the laws and not seek shortcuts that could lead to huge financial losses. Chinese companies should study the legal and tax environment and also understand how the local market works, he said.