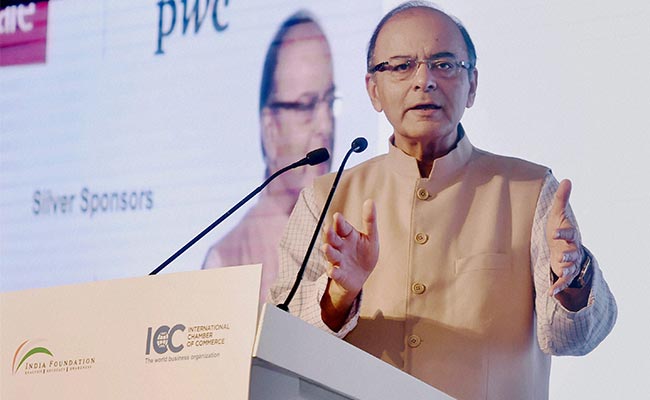 HONG KONG: Bullish on growing trade ties with China, Finance Minister Arun Jaitley today said the government is very keen to see the border dispute getting resolved expeditiously, even as he said India's border with China has been "far more peaceful" than the western borders.
"India-China trade has increased significantly. Trade has brought the two countries much closer… We have some contentious issues of the past between us, but even while those issues would be resolved in the due course, I think our economic relations have become a symbol of strength and therefore mutual investments in each other's country will be a win-win situation for both of us," he said.
Mr Jaitley, who is in Hong Kong to meet foreign investors, also said China has established its place as a low-cost manufacturing brand globally and India is now trying to build its Made in India brand with the Make in India campaign.
"Great economies do compete with each other and that does not mean they become opponents," he said during media interactions.
On border issues, Mr Jaitley rejected the suggestions that it was proxy war-like situation. "I don't think that is the correct expression to use. There is a border dispute and there is a mechanism in place since 2003 in order to look at that dispute," he noted.
"We will be very keen to see that the border dispute is resolved very fast. In fact, the border with China has comparatively been far more peaceful than our western border itself," he said.
On opportunities for India to attract FDI after China slowdown, the Finance Minister said, "I see an important opportunity for India and I see that opportunity because the relative slowdown in China does not impact India as such."
"If we are able to maintain our growth rates and the momentum of policy changes we are undertaking and if we are able to restore the credibility of investors in the Indian economy in terms of faster decision making, creating a better ecosystem to do business in India, then certainly the situation arises.
"A lot of investors are indeed looking at India. There have been encouraging signs in the last one year and we do need a lot of investments. Our processes have become faster, some of our states are becoming very aggressive and they are going out to attract investments," Mr Jaitley said.
According to him, the country needs the investments and the world is looking for places to make investments.
"We are growing faster than the rest of the world and we have potential to grow even faster and there are no serious political roadblocks on this path," he added.
To a question on whether the Make in India campaign was targeted at China, the finance minister said, "The world certainly needs more than one engine to pull it. China till recently has been shouldering the bulk of global growth and despite the relative slowdown in China, it will still shoulder a major portion of the world-wide economic growth."
Furthermore, he noted that the world will require another shoulder and India can fill that position.
India has underperformed as far as manufacturing is concerned although the country has done reasonably well on services, he said.
"Therefore, to put our systems in order and make India an important manufacturing hub, I think this is a good opportunity," Mr Jaitley added.
He said investors and companies the world over are also looking for alternative hubs to establish their manufacturing centres.
"I see another opportunity for India, that is in the last five years or so, wage bill in China has increased substantially and therefore the cost advantage that China has gets substantially neutralised. Therefore, India again has an opportunity in terms of comparative wages," he noted.
The Finance Minister also said India has a few clear advantages as an investment decision.
"We have a strong democracy and a very fair adjudication process. Wherever the past governments have been accused of being unfair, including on tax matters, the governments have not been successful in their attempts.
"Therefore, the governments have also learnt their lessons. Democracy also ensures that the government decisions are questioned by the media, Parliament and even investors. I think market economy and the democracy are natural allies," Mr Jaitley added.