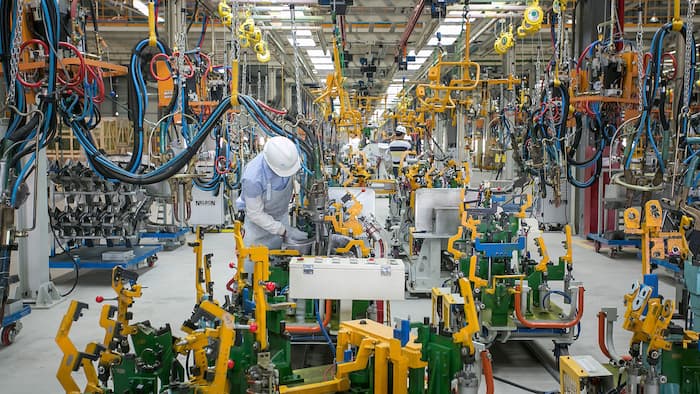 Lifan is a newcomer in a market dominated by four US and European manufacturers — Fiat, Volkswagen, General Motors and Ford. It entered Brazil in 2010, optimistic that its cost-effective offerings would do well against its pricier competitors. But like other Chinese carmakers Chery, JAC Motors and Geely, Lifan arrived in time to witness a crisis, as Brazil — the world's fourth-largest car market — began a meltdown that started in 2013 and has since gained speed.
"We would like, today, to be selling about 500 units per month, but we are in the range of 300 to 350," says Jair Leite de Oliveira, director of sales at Lifan. "We would certainly be [meeting our target] if it wasn't for the rapid decline in the market."
Political uncertainty because of the impeachment process against Dilma Rousseff, who has been suspended from her role as the nation's president during the hearings, combined with what analysts say was economic mismanagement by her government, have hurt Brazil's growth story. Lifan's situation reflects that of an automotive industry which is at the centre of the biggest economic slowdown for more than a century in Latin America's largest economy.
In early June, the national automotive producers association, Anfavea, predicted a 19 per cent year-on-year fall in sales of passenger and commercial vehicles to 2.08m units, taking the market back to 2006 levels. That fall would compound a 27 per cent decline in sales in 2015 compared with the year before.
"The level of consumer and investor confidence is still being shaken by the political and economic juncture," says Antonio Megale, the president of Anfavea. "There are expectations that there might be structural changes [in economic policy] and that is leading people to postpone their purchases."
The slowdown has frustrated the ambitions of Lifan and its Chinese counterparts to expand outside their Asian bases. Latin America's largest economy, and its rising lower middle class, had seemed the perfect target for new producers. This new Brazilian consumer was seen as aspirational, yet acutely conscious of price and value and open to trying new products.
Lifan had hoped to exploit these tendencies by introducing some of its best models to Brazil, such as the X60 sport utility vehicle, which the company says has sold well despite the crisis. "This has been the best-selling Chinese car in Brazil for two years," says Mr Leite de Oliveira.
According to the vehicle importers association, Abeifa, Lifan sold 5,006 cars in Brazil last year, just behind JAC Motors with 5,026. Chery sold 3,948 and Geely 651. Of its total, Lifan sold 3,082 X60s — outstripping by far any other model of Chinese car in the market.
We would certainly be [meeting our target] if it wasn't for the rapid decline in the market
Despite this, all three companies have been suffering this year. Chery's sales are down nearly 52 per cent in April compared with a year earlier, Lifan's have fallen nearly 38 per cent and JAC Motors by more than 34 per cent.
During the boom of 2000-10, when Brazil overtook Germany as the world's fourth-largest car market and looked set to overtake third-ranked Japan, all four Chinese carmakers announced they were considering establishing factories in the country.
Brazil heavily taxes imported cars, providing an incentive for manufacturers who want to sell large numbers to build factories in the country. In the end, Chery was the only large Chinese producer to open a plant, inaugurating its facility in Jacareí, São Paulo last year.
As of last December, the plant was operating at only 10 per cent of its 50,000-unit capacity.
Chery says it hopes to begin exporting an initial 1,000 cars from the São Paulo plant, starting with exports to Argentina this year. "The past year has not been easy," Luis Curi, vice-president of Chery Brasil, said in a statement to the press.
Also caught out by the crisis was JAC Motors, which in 2012 had laid the foundation stone for a new plant in Camaçari, in the northeastern state of Bahia, but has yet to build it.
Brazil's ministry of development, industry and foreign trade last month said it would begin seeking the repayment of tax breaks awarded to JAC Motors for setting up local production, alleging the carmaker had not fulfilled its promises to build the factory. JAC Motors responded that the project was still under way, with the plant due to be inaugurated early next year.
Lifan had also contemplated local production, but was using a plant in Uruguay — part of the Mercosur trade bloc of countries that also includes Brazil, Argentina and Venezuela. This enabled Lifan to produce vehicles in a tax-efficient manner within the region, while it waited to see how the Brazil market evolved.
"To have an industrial manufacturing operation in Brazil you have to have a certain minimum volume," says Sidney Levy, an executive at Lifan in Brazil. "Lifan does not have the scale to justify manufacturing in Brazil, but we are on the way there."
Instead, he says, the company has been working on customer service to try to lift its brand image for when the market begins to recover. Given the Chinese automakers' lack of brand recognition, the strategy was to market Lifan through a limited number of car dealerships, which would recommend the brand to customers. The company was also focused on post-sales service.
Lifan, along with Chery, was among the nine automotive manufacturers ranked best on Reclameaqui.com.br, a site for consumer complaints. The so-called "big four" US and European carmakers were listed as among the worst. Mr Leite de Oliveira says recovery in the market could be slow. "We are starting to perceive a change in attitude, with more people visiting dealerships," he says. "But actual growth, I think, will only be towards the end of the year or in 2017."