New Delhi: India continues to be among the top ten countries in terms of foreign direct investment (FDI) inflows globally and the fourth in developing Asia, as per the World Investment Report 2016 by the United Nations Conference for Trade and Development (UNCTAD).
India's FDI inflows have increased to $44 billion in 2015 as compared to $35 billion in 2014, and the growth has been across the board, the report said.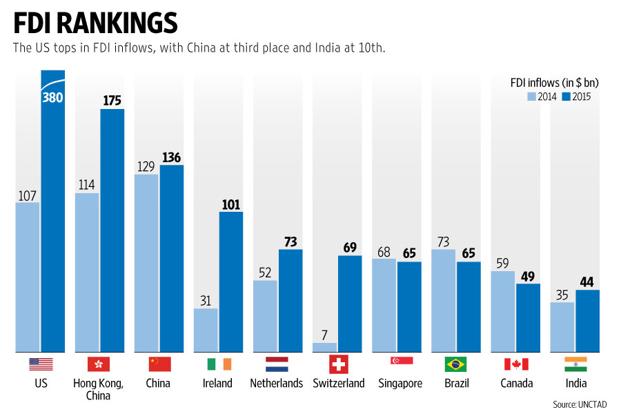 A surge in investments in the first four months of 2016 is mainly on account of the Make in India initiative, along side liberalization measures and reforms initiated by the National Democratic Alliance, which make India an attractive investment decision, according to Nagesh Kumar, who heads the South, South-West Asia office of the United Nations Economic and Social Commission for Asia and the Pacific (UNESCAP).
The huge potential offered by India, the fastest growing major economy, is also one of the main reasons, he added.
To be sure, China with more than three times India's FDI at $136 billion in 2015 is ranked third in terms of FDI flows among all countries, as per the report.
In terms of outflows, there has been a decline in most developing and transition regions. However, China is one of the exceptions.
According to Devendra Kumar Pant, chief economist and senior director (head, public finance) at India Ratings and Research, "The declining trend in India's outflows can be explained by the collapse in the commodity side. In the past most of the corporates used to buy assets outside and that too commodities such as coal and oil. Their own good performance aided to this."
Globally, FDI activity has increased by 38%, in a signal that a revival in investment sentiments is on the cards.
"The way India is performing in terms of growth rate now along with our competitive location in terms of wages and policies like Stand Up India should benefit us in future. At the same time, issues like land acquisition, GST and labour reforms need to be handled," said Kumar.
The report also talked about striking the right balance between liberalization and regulation to promote investment for sustainable development. Liberalization measures have been applied by relaxing or eliminating entry requirements in aviation, financial services, mining and real estate. Restrictions, on the other hand, have been introduced for national security and related reasons, the report said.
Kumar pointed out that the manufacturing sector in India is critical for job creation.
"The recent announcement of increasing FDI in seven new sectors should help India in achieving this. The gap between the two nations (India and China) in terms of FDI flows has narrowed, but still there is a lot of scope. India is doing what China did to attract FDI 10 years ago," Kumar said.
He was referring to the NDA's decision to further liberalize FDI norms in seven sectors, including civil aviation, defence, food products and pharmaceuticals. It was the second major overhaul of FDI rules in seven months. In November, the NDA government eased norms for foreign investment in 15 sectors.
Pant, however, pointed out the recent measures taken in FDI will take some time to have an impact on the economy.