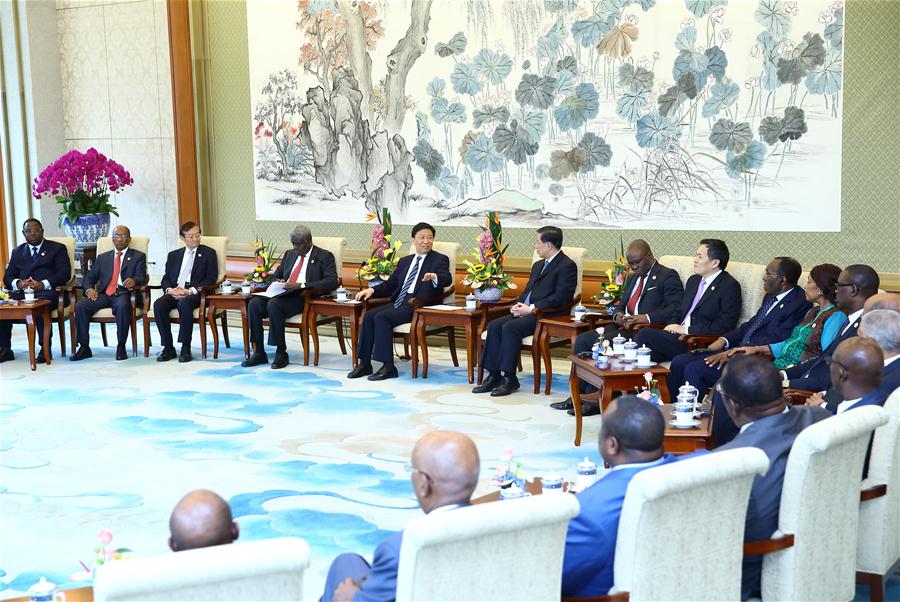 Companies from China and Africa signed 39 deals worth around 17 billion U.S. dollars on Thursday.
The deals, involving financial institutions and enterprises, were signed on the eve of a meeting on delivering the outcomes of the Johannesburg Summit of the Forum on China-Africa Cooperation (FOCAC).
More than 400 participants from government agencies, financial institutions, business associations and enterprises attended the Seminar on China-Africa Business Cooperation and Signing Ceremony in Beijing on Thursday.
The seminar was hosted by the China Council for the Promotion of International Trade (CCPIT), which is a supporting event for the Coordinators' Meeting of the Implementation of the Follow-up Actions of the Johannesburg Summit of the FOCAC.
During the seminar, participants exchanged views on industrial capacity cooperation, trade and investment facilitation and financial cooperation.
Chinese and African companies spanning the sectors of infrastructure, processing and manufacturing, finance, investment, energy, chemicals, agriculture, pharmaceutical and ICT, reached consensus for future cooperation.
Jiang Weixin, chairman of the CCPIT, said the development strategies of Africa and China were highly compatible, and the two sides have many advantages.
In the future, the CCPIT will work with its African counterparts to enhance communication, strengthen policy coordination, and organize more trade and investment events to boost China-Africa trade ties, said Jiang.
Chinese Vice President Li Yuanchao had a group meeting with the African delegates.
Hailing the success of the Johannesburg summit, Li called on China and the African countries to enhance mutual trust, promote pragmatic cooperation, expand people-to-people exchanges and improve coordination on global affairs.
State Councilor Yang Jiechi held separate meetings with the foreign minister of Chad, Moussa Faki Mahamat; Sudanese Presidential Assistant Al-Jaz; and Gambian Foreign Minister Neneh MacDouall-Gaye, exchanging views on China's ties with their respective countries as well as Africa as a whole.
At the summit of the Forum on China-Africa Cooperation (FOCAC) last December in Johannesburg, South Africa, Chinese President Xi Jinping announced ten major China-Africa cooperation plans for the next three years, backed by 60 billion U.S. dollars, including interest free loans and preferential policies.