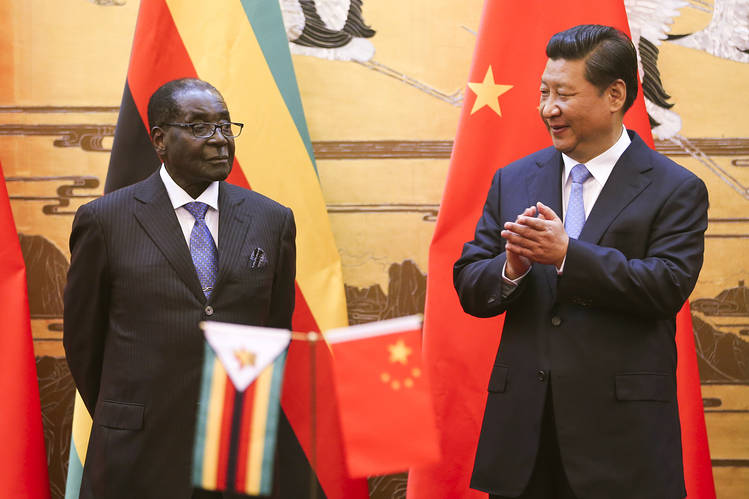 China is expected to pledge more investment and development aid in Africa as President Xi Jinping embarks a five-day trip to the continent this week, beginning with a visit to Zimbabwe.
Mr. Xi's Zimbabwe visit on Tuesday—the first trip by a Chinese president to the country since 1996—kicks off a trip that includes a summit in South Africa with African leaders later in the week.
His trip is set to be closely watched by foreign investors as an indicator of the extent to which China will plow new aid and investment into Africa. Beijing has fostered close economic ties with African economies, but a slowdown in Chinese growth has raised questions over whether the government would temper its hefty annual investment on the continent.
China is Africa's top trade partner, exchanging $222 billion of goods and resources with the continent last year. Chinese firms are building roads and railways across the continent, often in exchange for resources like half of the 1.8 million barrels of oil that Angola pumps each day.
The roughly $1 billion in tobacco and nickel that Zimbabwe sells to China each year is just a fraction of that sweeping enterprise.
But Beijing has forged a close relationship with Zimbabwe leader Robert Mugabe as U.S. and European powers have criticized the undemocratic means the African leader has used to hold power for 35 years. For China, the ties have meant the chance to access Zimbabwe's natural resources and secure deals for the country's state-owned firms, while for Mr. Mugabe, the relationship has provided a much-needed economic boost.
Mr. Mugabe, who overthrew Zimbabwe's white-minority government with the help of aid from China, has in recent years accepted $1.5 billion in Chinese loans and made the yuan currency legal tender, efforts to prop up his country's weak economy, which for years has been beset by rampant inflation.
China's Xinhua News Agency reported that Beijing invested more in Zimbabwe in 2013 than any other African country: $601 million in projects. When Mr. Xi arrives at Harare's airport, he will travel on a refurbished road that will carry him to the State House veranda where Mr. Mugabe receives guests flanked by stuffed lions and leopards.
"Mugabe is an old friend of China," said Deborah Brautigam, who directs the China Africa Research Initiative at Johns Hopkins University-SAIS. Such ties have prompted criticism that China has bolstered authoritarian regimes in its push to access African resources and markets.
Ms. Brautigam said that during his visit to Zimbabwe, Mr. Xi is likely to try to glean some insight into who will succeed Mr. Mugabe whenever the 91-year-old president dies or steps down. "Change is going to be happening and going to be happening fairly soon," she said.
Though the workings of Mr. Mugabe's Zanu-PF are nearly opaque as those of Mr. Xi's Communist Party, politicians in Zimbabwe say Mr. Mugabe's wife Grace may be angling to succeed him. That could spark a power struggle against longtime lieutenants such as the vice president and former defense minister, Emmerson Mnangagwa.
On Wednesday, Mr. Xi is scheduled to fly south to neighboring South Africa for meetings with President Jacob Zuma and the Forum on China-Africa Cooperation.
Ahead of the forum, Chinese and South African firms announced $930 million in investments in steel, energy, pharmaceutical and other sectors. Many of the investments are in industries where China suffers a glut in capacity and would like to export some of excess production to foreign markets.
Chinese officials say they want to broaden their African ties to take advantage of the continent's booming ranks of young, relatively low-paid workers in addition to its abundant stores of oil, diamonds and coal.
"China will export advanced industrial production capacity to African countries," Vice Commerce Minister Qian Keming said last week. While Chinese-African trade has flourished for years, Chinese money still remains a fraction of overall foreign investment in the continent.
China has already backed projects to make shoes in Ethiopia and televisions in Cape Town. "Labor and production capacity, these are things that Africa has that China needs," said Tang Xiaoyang, an assistant professor who studies China-Africa relations at Tsinghua University.
'South Africa has this urge to please the Chinese and to see the Chinese developmental model as almost perfect'

—Mzukisi Qobo, former director in South Africa's trade ministry
But this year has also posed the greatest test yet to China and Africa's decadelong love affair. China's slowing economy has dragged Africa's expected expansion down to 3.8% this year, from 5% in 2014.
Waning demand in the world's No. 2 economy for commodities like oil and copper have pushed down prices and wrecked the finances of countries like Angola and Zambia that rely on their export.
China's Ministry of Commerce said in November that Chinese investment in Africa dropped 40% in the first six months of this year.
Still, many economists doubt those trials will convince countries like South Africa and Zimbabwe to rethink their long-term bet on China's largess.
"South Africa has this urge to please the Chinese and to see the Chinese developmental model as almost perfect," said Mzukisi Qobo, a political scientist and former director in South Africa's trade ministry.