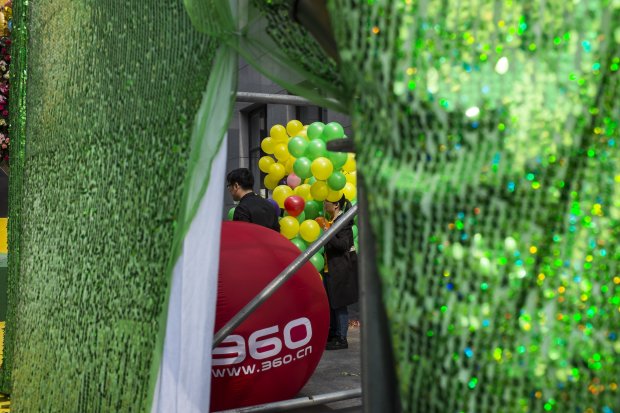 China's Internet companies are rewarding the faithful among U.S. investors as progress on China's biggest ever buyout deal signals more deals likely to go through.
An investor group, led by Chairman Zhou Hongyi, is nearing a definitive agreement to pay $9 billion to buy out Qihoo 360 Technology Co. at around $77 per share for the U.S.-listed Chinese Internet security company, according to people familiar with the matter.
Qihoo 360 was the biggest of a wave of buyout offers made earlier this year while Chinese stocks were soaring. The buyout groups bet they could take private Chinese companies that traded in U.S. and list them in China at much higher valuations.
The crash of the mainland Chinese stock markets this summer sparked doubt among investors that the deals would go through. Spreads on announced take-private offers, which were nonbinding, widened dramatically with some stocks, including Qihoo 360, trading at almost half of the offer prices.
Investors who hung around have been rewarded. Prospects have brightened as a frantic effort by Beijing halted the decline and regulators reopened the domestic initial public offering market after a freeze on new listings in July.
The closely watched relisting of Chinese outdoor advertising display firm Focus Media Holding Ltd., which was taken private from Nasdaq in 2013, also boosted optimism that the buyouts would get done.
That deal, which was the first major successful relisting domestically, values Focus Media at more than twice its $2.6 billion valuation when it was taken private by a cluster of private-equity funds, including Carlyle Group LP. Despite the selloff in China, shares there trade at far higher valuations than in the U.S.
Investors betting on Chinese stocks listed in the U.S. have also gotten a boost from their inclusion in heavily tracked stock indexes. Benchmark provider MSCI Inc.decided in November to add more than a dozen U.S.-listed Chinese stocks, including Alibaba Group Holding Ltd. and Qihoo 360, for the first time in the MSCI Emerging Markets Index, the MSCI China Index and other indexes that cover China, such as the MSCI AC World Index. For example, Chinese search leader Baidu Inc., which sports a $72 billion market cap, is up more than 60% from its September lows.
The $9 billion Qihoo 360 proposed buyout is expected to be completed in the coming weeks with financing from a mostly domestic investor group, the people familiar with the matter said. China's largest Internet security company has enlisted Chinese wealth management firms to help raise funds for the buyout and plans to relist shares on a Chinese domestic stock exchange soon after a deal is completed, likely via a reverse merger, according to the people. The idea is that the company would fetch a higher valuation in its home market.
An offer by the Internet-services provider of $77 per share would be a 13.4% premium to Monday's closing price of $67.90 a share. The company's shares traded below $45 in September as the Chinese stock market bottomed and investors feared that the potential buyers would lose their appetite for the deal.
Shares of the company have bounced back in recent weeks, along with other U.S.-listed Chinese Internet companies. Qihoo 360 chairman Zhou Hongyi and a clutch of investors including venture-capital firm Sequoia Capital China and Chinese brokerage firm Citic Securities Co. made a nonbinding proposal for $77-a-share in June.
Because the Qihoo 360 offer, like the more than a dozen made for U.S.-listed Chinese companies earlier this year, was nonbinding, Mr. Zhou's buyout group could have altered the terms of the offer, or withdrawn it. Other investors in the consortium include boutique investment bank China Renaissance Holdings Ltd. and Golden Brick Capital Private Equity.
Buyout groups for E-House (China) Holdings Limited and Mindray Medical International Ltd. this summer lowered their privatization prices as China's market tumbled and initial public offerings were halted.
The original $9 billion Qihoo 360 offer was made in June at the height of China's stock market boom, when frothy valuations in China's domestic stock market lured the managers of U.S.-listed Chinese companies to embark on such proposed take-private deals with the aim of listing back home.
Valuations for domestically listed technology companies in China have since come down, and few of the take-private offers have been completed so far this year, leaving investors skeptical about the remaining nonbinding bids. Many of those deals still involve shares trading at a steep discount. Still, tech valuations in China are much richer than for U.S.-listed China technology companies.
The offer would reward early investors in Qihoo 360, which listed shares in New York at $14.50 each in 2011. Qihoo 360's shares traded as high as $120 a piece in 2014. Qihoo 360 is one of the more natural candidates for returning to China's domestic market.
Some other Chinese take private deals have been making progress toward completion. WuXi PharmaTech (Cayman) Inc. entered into a definitive agreement with investors Aug. 14 to go private, moving the $3.3 billion buyout deal closer to completion.
On Monday, China's iKang Healthcare Group Inc. said it received a competing buyout offer from a Chinese company with backing from Sequoia Capital China and that would offer a higher price than a deal offered by its founder in August.