BEIJING, Nov. 9 (Xinhua) — Chinese President Xi Jinping's just-concluded visit to Singapore has created new engines for bilateral cooperation and set a new model for regional cooperation.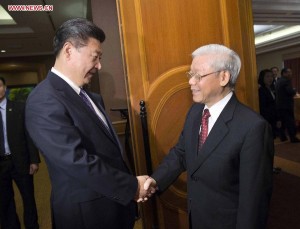 Since the establishment of diplomatic ties 25 years ago, China and Singapore have always been pioneers in advancing regional cooperation. By combining mutually beneficial cooperation with each other's development strategies, they have creatively walked out a cooperation path.
Asia is a continent that has the largest number of countries in the world, with cultures, beliefs and social systems varying from country to country. However, globalization has made interests of different countries converge, thus creating a community of common destiny.
Meanwhile, Asia is a region where the world's most vibrant economic development happens, and where there are more sensitive issues than any other place in the world. Therefore, how Asian countries get along with each other will not only affect their existence and development, but also make an impact on the stability and prosperity of the region as a whole.
China's development cannot be isolated from the outside world but should rather be connected with the interests and destinies of its neighboring countries, for a peace and friendly neighborhood is the very foundation of China's own development and prosperity.
President Xi has shown China's sincere willingness to create a community of common destiny with its neighbors by saying that China's commitment to peaceful development and an independent, peace-oriented foreign policy "is not an expedient tactic, but our strategic choice and solemn commitment."
China's neighborhood diplomacy featuring amity, sincerity, mutual benefit and inclusiveness has been vividly elaborated on by Xi's four-point proposal, which underlines maintaining peace and security, linking development strategies, conducting security cooperation and consolidating people-to-people friendship.
By providing opportunities and spaces for the development of neighboring countries and welcoming them to take a ride on China's fast development, Beijing has met its words by its deeds in presenting to the world that a more prosperous and stronger China will not follow the "inexorable law of history" to seek hegemony.
Only by constantly deepening trust and cooperation and jointly walking down the road of peaceful development and common prosperity can we expect a bright future of our shared Asian homeland.