BEIJING, June 11 (Xinhua) — Growth of China's industrial output continued to pick up in May after hitting a six-year low in March and rebounding in April, pointing to tentative signs of improvement for the world's second largest economy.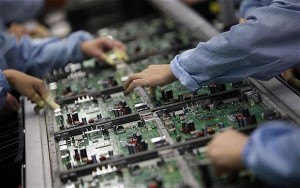 Industrial output grew 6.1 percent year on year in May, up from the 5.9-percent growth in April and 5.6 percent in March, the lowest monthly level since December of 2008, the National Bureau of Statistics (NBS) announced on Thursday.
The figure was released by the NBS with other major economic indicators for May and the first five months.
Manufacturing output rose 6.7 percent, while the mining industry saw output grow 3.9 percent. Growth for electricity, heating, gas and water was 2.2 percent.
In the first five months, industrial output grew 6.2 percent year on year, the same growth rate as the January-April period.
Industrial output, officially called industrial value added, is used to measure the activity of designated large enterprises with annual turnover of at least 20 million yuan (3.22 million U.S. dollars).