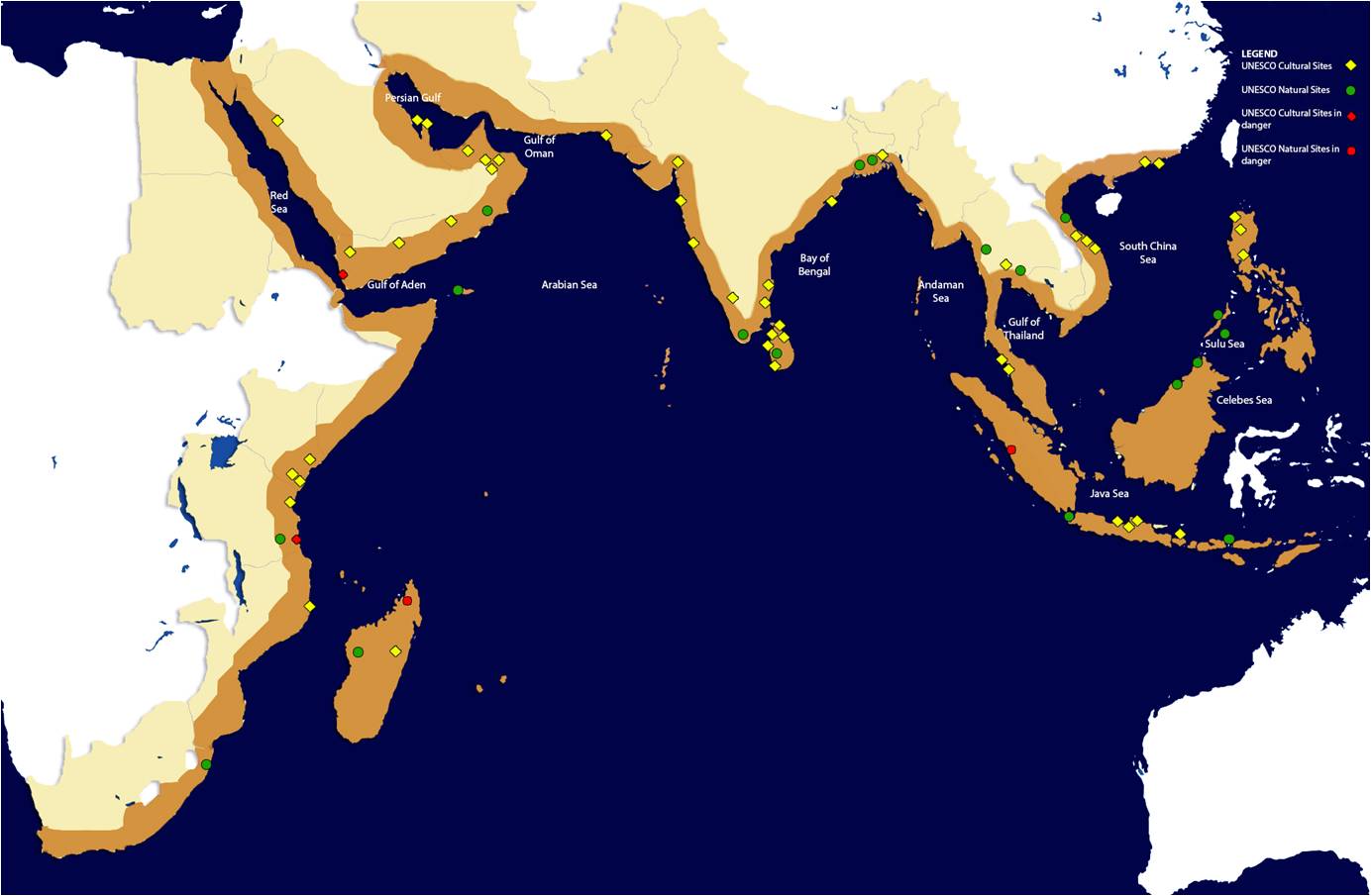 Mausam: Maritime Routes and Cultural Landscapes
Project 'Mausam' is a Ministry of Culture project to be implemented by Indira Gandhi National Centre for the Arts (IGNCA), New Delhi as the nodal coordinating agency with support of Archeological Survey of India and National Museum as associate bodies.
Project Launch
The unique idea of this project to showcase a Transnational Mixed Route (including Natural and Cultural Heritage) on the World Heritage List has been well appreciated during the Project Launch by India at the 38th World Heritage Session at Doha, Qatar on 20th June, 2014. The Director General UNESCO appreciated India's initiative in launching this unique project and ambassadors of several countries including China, UAE, Qatar, Iran, Myanmar, and Vietnam expressed great interest in this multifaceted cultural project. (ATTACH VIDEO)
About the Project
Focusing on monsoon patterns, cultural routes and maritime landscapes, Project 'Mausam' is examining key processes and phenomena that link different parts of the Indian Ocean littoral as well as those that connect the coastal centres to their hinterlands. Broadly, Project 'Mausam' aims to understand how the knowledge and manipulation of the monsoon winds has shaped interactions across the Indian Ocean and led to the spread of shared knowledge systems, traditions, technologies and ideas along maritime routes. These exchanges were facilitated by different coastal centres and their surrounding environs in their respective chronological and spatial contexts, and simultaneously had an effect on them.
The endeavour of Project 'Mausam'is to position itself at two levels:
At the macro level, it aims to re-connect and re-establish communications between countries of the Indian Ocean world, which would lead to an enhanced understanding of cultural values and concerns;
At the micro level, the focus is on understanding national cultures in their regional maritime milieu.
The Project scope falls under several themes to be explored through various UNESCO Culture Conventions to which the Government of India is a signatory with the Ministry of Culture and ASI as nodal agency.
Initiatives till date
Preliminary works on this new project has already been initiated. A monthly lecture series has been organized at India International Centre (IIC), New Delhi in collaboration with IGNCA, National Monuments Authority (NMA), New Delhi and IIC. The first international conference, scheduled in February 2015, is being organized with national and international research partners and collaborators. The Research Unit at IGNCA is in the process of collating data from all identified organisations and institutions and a series of national workshops are planned before the international conference in Feb. 2015. IGNCA has set up a webpage for the Project and more information about the project can be sourced at
http://ignca.nic.in/mausam.htm