NEW DELHI: China-based solar equipment maker Xi'an LONGi Silicon Materials Corp today signed an agreement with Andhra Pradesh for setting up a manufacturing unit in the state with initial investment of Rs 1,670 crore which will create 1,000 jobs.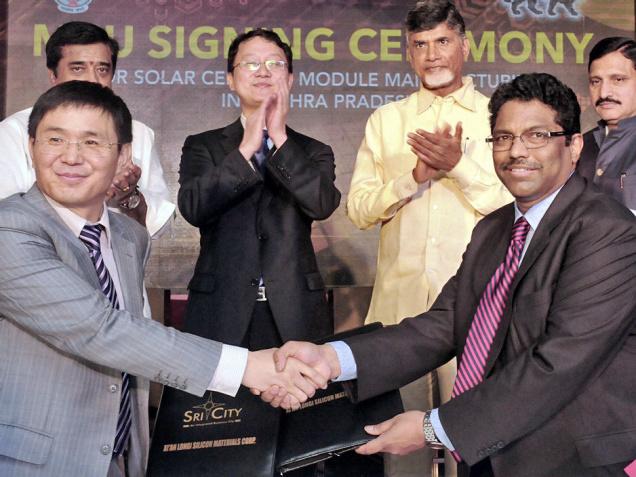 Xi'an LONGi will eventually invest Rs 8,000 crore in state and manufacture solar cell and modules. This entire investment will result in creating 5,000 jobs. The investment will prove as a big push to India's ambitious target of having 100 GW of solar power capacity by 2022 under National Solar Mission.
The Memorandum of Understanding (MoU) was signed by the LONGi's Chairman Baoshen Zhong and Energy, Infrastructure and Investment Secretary of Andhra Pradesh Ajay Jain.
"We will invest USD 250 million for setting up a solar cell and module manufacturing facility in Andhra Pradesh. This will boost production of clean energy equipment in the country," Zhong said while addressing the press conference.
Jain said, "This investment will boost manufacturing facilities in state. This initial investment by LONGi will create 1,000 jobs."
Following the visit of Andhra Pradesh Chief Minister to China, LONGi has come out with a large investment plan in Andhra Pradesh.
The plan is to manufacture 1000 MW Solar Cells, 1000 MW Solar Modules, 500 MW Solar Power Park. The first phase of investment is Rs 1,670 crores out of the proposed Rs 8,000 crores. The project is expected to employ 5,000 people, a statement said.
LONGi's Chairman Baoshen Zhong and Sri City Managing Director Ravindra Sannareddy also signed a deal in the presence of Andhra Chief Minister N Chandrababu Naidu.
LONGi will set up its plant in the Sri City which falls in Chittoor district of Andhra Pradesh and located 55 km north of Chennai on national highway (NH-5).
On this occasion, Naidu assured the top brass of the Chinese company that they would get all approvals from the state government within 21 days as there is single desk for all sanctions.
Addressing on the occasion he said, "For the first time very good investment is coming from China. Solar power is the best solution for sustainable economic growth."
He assured round the clock power supply and water availability for the manufacturing saying that the company will get assured quality power in the state.
The chief minister also informed that the Prime Minister will lay the foundation stone of new capital city Amaravati on October 22.
About the aggregate technical and commercial losses, he said the state will bring those down to single digit from existing 10.4 per cent and these would be reduced to international standards of 5-6 per cent in two- three years time.