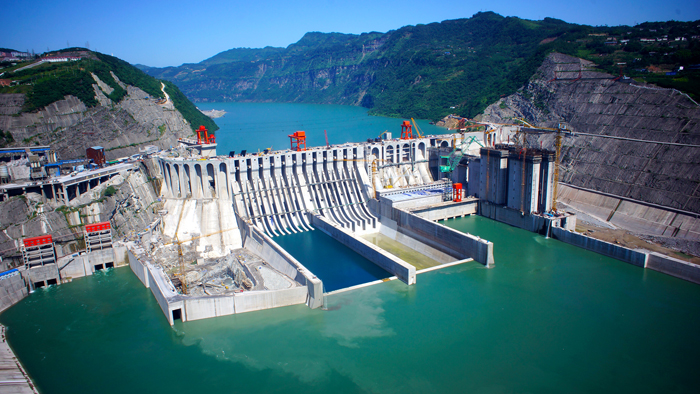 The Three Gorges Corporation (CTG) of China has recently completed its acquisition of the operation of two Brazilian hydroelectric power plants, Ilha and Jupia, at a cost of 3.7 billion U.S. dollars.
The deal closed earlier this month has been CTG's biggest overseas acquisition so far, making the company the second-largest private energy generator in Brazil.
From acquiring a 21.35-percent stake in EDP, a Portuguese power group in Brazil in 2011, to getting concession contracts for hydroelectric power plants this time, the CTG has been continuously expanding its international business and trying to reach the high-end of the value chain in Brazil's hydropower sector.
It also shows that China's hydropower enterprises have evolved from pursuing short-term benefits of subcontracting and construction to a more mature stage marked by mergers and acquisitions (M&A) based on overall strength, and management and operation policies designed for gaining long-term profits.
DECISIVE FUNDS FOR COOPERATION
In October 2015, the Brazilian government announced the tender of operating concessions of Ilha and Jupia, two domestic hydropower plants. Within just 42 days, the CTG won the bid through the financing channel of the China-Latin American Production Capacity Cooperation Investment Fund established last June.
The CTG's operations in Brazil will cover 10 states, taking up an important role in the nation's clean energy sector and contributing to the development of Brazil's hydropower industry and overall economic growth, according to Li Yinsheng, CEO of the CTG Brazil.
"As the largest economy in Latin America, Brazil is endowed with abundant resources, huge market demands, and mature electricity and market systems," Li said. "Investing in Brazil's hydroelectric power projects is of great significance to the CTG."
Four months later, another important fund titled China-Latin American Cooperation Fund was officially launched in early January with an initial injection of 10 billion dollars to support cooperative projects between China and regional countries.
By different mechanisms of fund use, those money will be invested into such areas as energy resources, infrastructure, agriculture, manufacturing, scientific innovation, information technology, production capacity cooperation in Latin America, and cooperative projects between China and regional countries.
SUBSEQUENT OPERATION KEY TO INVESTMENT GOALS
Getting the concession contracts just represents the early stage of success for Chinese enterprises.
To realize investment goals, the companies should focus on subsequent operation and management.
Ilha and Jupia have been facing both technical problems, such as engine deterioration, and external challenges from the market, environment, labor polices, among others.
To improve current situation, the CTG should make efforts in modifying technologies and optimizing production processes to provide clean energy for Brazil's economic and social development.
AIMING AT HIGH END OF BRAZIL'S VALUE CHAIN
Last year was a year of recession for Brazil's economy, but the country also witnessed a surge in M&A by foreign companies, with 285 significant deals sealed, and foreign direct investment reaching 70 billion U.S. dollars.
With Brazilian companies facing financing difficulties, the government needs to gradually lift investment restrictions on foreign enterprises, which would offer a win-win solution for the survival of Brazil's domestic companies, and help attract foreign investment, according to a recent report by Brazil's Itau bank.
The company's credit advantage, strong financing capacity and leverage, and strength in construction and operation will also help Chinese enterprises expand their business in Brazil's hydropower industry, pushing them to the high-end of its value chain.
The CTG's successful acquisition will further motivate China's entire hydropower industrial chain to go global, including motor manufacturing, mechanical maintenance and station operation, among other sectors.
The overseas expansion of China's competitive industries requires not only core technologies, but also suitable platforms, experts say. To that end, they believe, cross-border M&A, and long-term operation and management, could be great steps.