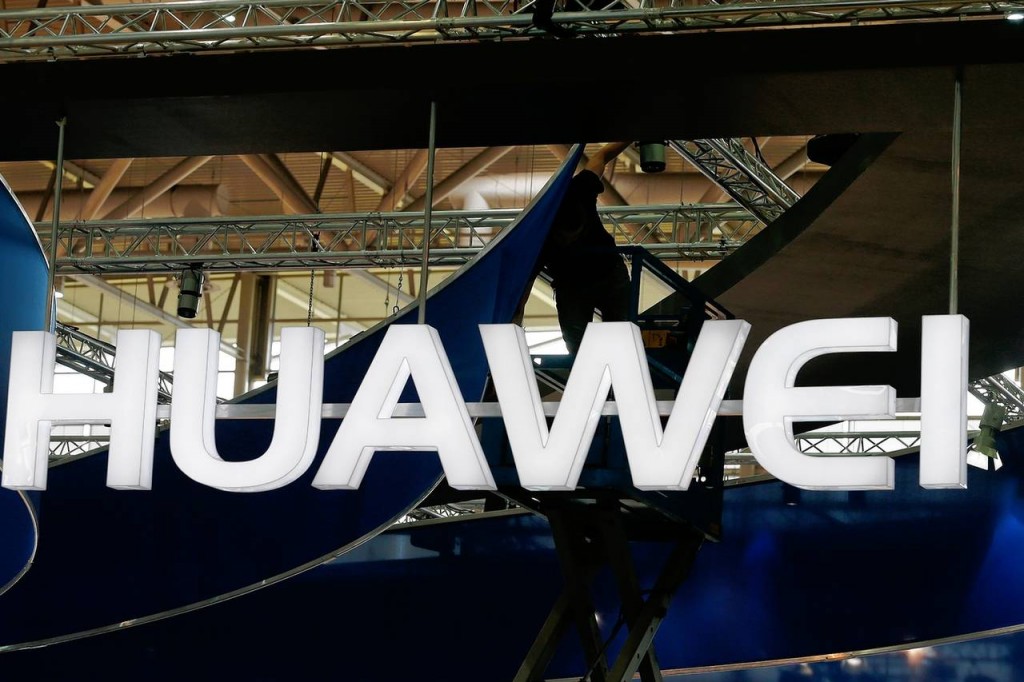 World's third-largest smartphone maker plans to sell its flagship phone in the U.S. for the first time next year
HONG KONG—Huawei Technologies Co., the Chinese company whose telecom networking equipment is banned in the U.S. due to security concerns, is making a renewed push to sell smartphones and other gadgets to consumers in America.
Huawei, the world's third-largest smartphone maker by shipments behind Samsung Electronics Co. and Apple Inc., plans to sell its flagship smartphone, the high-end Mate 8, in the U.S. for the first time next year. It intends to exhibit the phone, which went on sale in China this month for roughly $600, at the Consumer Electronics Show in Las Vegas next month, according to people familiar with the matter.
The company also plans to showcase at CES a smartphone that sells in China for less than $300 called Honor 5X, and a new smartwatch, both of which will also be sold in the U.S., the people said.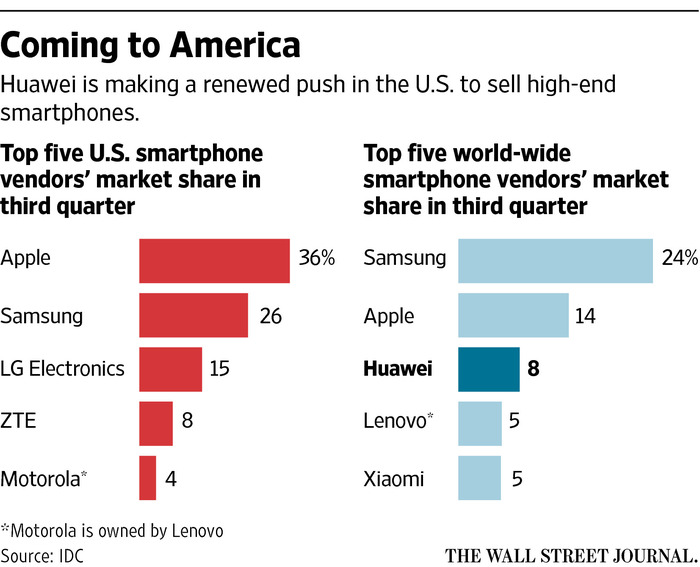 Already one of the top handset makers in China, Huawei is seeking to bolster its image as a consumer brand in mature Western markets to boost profit and show it can compete in the global market.
In emerging markets in Asia, Africa and Latin America, many Chinese handset makers are in a fierce price war that is keeping margins razor-thin.
But the U.S. market has been difficult to crack. Huawei's telecom equipment, such as routers and switches, has been shut out of the U.S. market. In 2012 a congressional report recommended that the country's telecom operators avoid using Huawei equipment, citing concerns that it could be used by Beijing to spy on Americans. Huawei has repeatedly denied such suggestions.
The U.S. market is strategically important for Huawei because it is the world's biggest market for smartphones that retail for more than $500. But Huawei now has minimal presence there. Its U.S. expansion focuses on selling more high-end devices, manufacturing Google latest Nexus phone and new marketing campaigns.
"We have already seized a leading position in the Chinese [smartphone] market. We hope that in the U.S. we can achieve the same success," Huawei Deputy Chairman Ken Hu said in a recent interview.
Huawei has dedicated teams that have been studying U.S. consumer preferences and technological requirements, Mr. Hu said. The Chinese company also plans to open a new software design studio in San Francisco early next year.
In a sign of its desire to build more brand awareness in the U.S., Huawei made a new push this year by collaborating with Alphabet Inc. 's Google to build the U.S. software maker's Nexus 6P smartphone, which made its debut in September.
To develop the phone, Huawei's designers and engineers visited the U.S. and worked closely with their Google counterparts, according to people who worked on the Nexus device. The Nexus 6P, the first high-end phone in the U.S. to carry a Huawei logo, costs at least $499. Huawei and Google declined to disclose sales of the device but the partnership was significant in that Huawei was the first Chinese maker of the Nexus line of phones, whose past suppliers included Samsung.
Huawei's new Android-based Mate 8 has a metal body, a fingerprint scanner and larger battery capacity than the latest iPhones. Huawei declined to disclose when its new flagship phone might be available in the U.S. or how much it would cost.
"If Huawei wants to establish itself as a smartphone technology leader, it is critical to be present in the U.S.," Canalys research director Nicole Peng said.
So far, Huawei has been selling mainly low-end phones in the U.S. through SprintCorp. , its online store and other retail channels such as Best Buy and Amazon.com.But Huawei has struggled to boost sales because its distribution channels are weak and its brand is little-known.
To improve this, Huawei says it is planning to launch a new advertising campaign in media and at airports in the U.S. and other international markets next year. The company declined to disclose its marketing budget or specific plans to expand its distribution channel.
The U.S. accounted for just 1.4% of Huawei's total handset shipments in the third quarter, according to Canalys. About 60% of smartphones shipped in the U.S. cost more than $500 without a carrier contract, while only 17% of smartphones in China were in that price segment, the research firm said.
Huawei's stand at the CeBIT trade fair in Hanover, Germany, in March. The company plans to exhibit at the Consumer Electronics Show in Las Vegas next month. Photo: Reuters
In the months from July to September, Huawei's world-wide smartphone shipments jumped 61%. That outpaced by far the overall industry, which grew 6.8%, according to research firm IDC. In some European markets such as Italy and Spain, Huawei's sales have been growing in the high-end segment, researchers say.
But so far, the most successful Chinese smartphone brand in the U.S. has been ZTECorp. , which ranked fourth in the market in the third quarter, according to IDC. Chinese electronics maker Lenovo Group Ltd. , which last year bought Motorola Mobility, focuses on selling Motorola-branded phones in the U.S. rather than bringing Lenovo handsets there. Xiaomi Corp., China's most valuable startup, has expanded into emerging markets such as India and Brazil but hasn't entered the U.S.
"The U.S. is not a market where you can build your business overnight," said Lixin Cheng, head of ZTE's U.S. business.
Mr. Cheng said ZTE has so far invested $380 million in the U.S. market, which includes sponsorship deals with National Basketball Association teams.
"You have to have a very long-term strategy. You need to be patient," Mr. Cheng said.