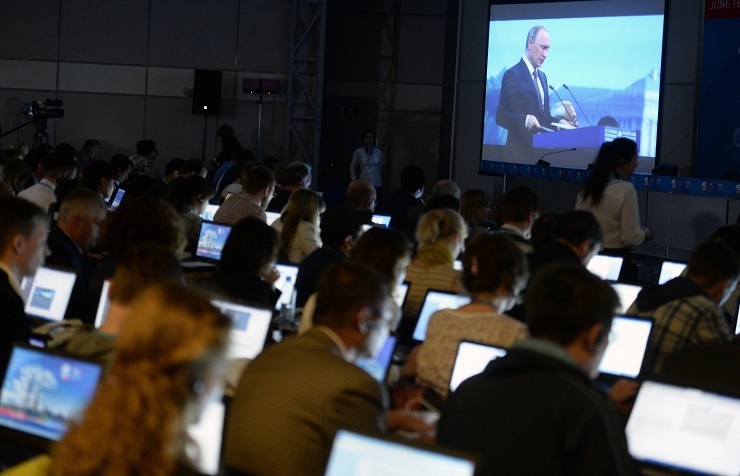 Russian President Vladimir Putin on Thursday will gather journalists for his eleventh annual question-and-answer session at Moscow's World Trade Center.
Participants
This year, as many as 1,390 journalists have been accredited for the news conference, a record-breaking number. Thus, Putin's first such news conference in 2001 drew 500 journalists. More than 700 journalists were accredited in 2002 and in 2003, about 750 – in 2004, 1,132 – in 2007, 1,364 – in 2008, 1,327 – in 2013, and 1,259 – in 2014.
Kremlin spokesman Dmitry Peskov said on Wednesday several reporters had not been accredited to cover Putin's news conference due to a technical fault.
"As many as 1,392 reporters have received accreditation although some have failed to be accredited. However, absolutely all the outlets (have been accredited)," Peskov said refusing to name the persons as it would be incorrect.
The list of accredited journalists posted on the Kremlin website features among others Ksenia Sobchak of the Dozhd television channel, who plunged into a dispute with Putin at his last year's news conference, and Moria Solovyenko of the Far East's Norodnoye Veche, who is notorious for her unceremoniousness in speaking with the president.
The list however lacks the name of Andrei Tumanov, the editor-in-chief of the Vashi 6 Sotok newspaper who enjoyed the right of asking the first question at a number of previous such news conferences.
A little Bit of History
Putin set up a tradition of annual meetings with journalists in 2001, when the Kremlin press service said it had many inquiries for an interview with the president. Since then, the interest to what the Russian leader is saying has been only growing.
Rounding off his first question-and-answer session in 2001, Putin promised to continue such meetings. He made a short break only when he was prime minister, from May 2008 to May 2012, to resume this practice in 2012 after being election for his news, six-year, term in the presidential office.
The first seven news conferences were held in the Kremlin. All subsequent ones were held at the World Trade Center.
No Time Limits
Putin's question-and-answer session traditionally starts at noon. As a rule, it lasts for several hours. That is why it is often referred to as a 'big' news conference.
It is up to the president to decide when to stop. The first news conference in 2001 was the shortest one – one hour and 33 minutes. The longest one took place in 2008 when Putin answered question for four hours and 40 minutes. Last year, the question-and-answer session lasted for three hours and ten minutes.
Reporters are free to answer any question they like. To get prepared for the news conference, the president consults various experts.
The Kremlin spokesman predicts that this year's news conference, like the one in 2014, will focus on socio-economic problems and on the international agenda.
Traditionally, the news conference begins with opening remarks of the president, who sums up the results of the outgoing year. After that, Putin's press secretary, Dmitry Peskov, gives the floor to reporters to ask questions to the president. Eventually however Putin undertakes this job. That is why experienced journalists bring various sorts of posters, flags and even stuffed toys to attract the president's attention.
Out Of Vision
The news conference will be aired live by the Rossiya-1, Rossiya-24 television channels and Channel One. It will also be broadcast by the radio stations Mayak, Vesti FM and Radio Russia.
The Kremlin press service recommends accredited journalist to gather at the World Trade Center from 08:30 a.m. Moscow time. Admittance will be forbidden an hour before the news conference.
The news conference will be translated into English, French and German.
Preparations for the 'big' news conference take more than a month to have enough time to accredit journalists and solve technical and organizations issues. Thus, television channels that air this even say it took them five days to install 35 tonnes of television equipment.
Eternal Format
According to the presidential press secretary, format of Putin's the annual news conference is eternal and does not need to be changed.
"The format of the annual news conference may be eternal," Peskov told TASS when asked if Kremlin deemed it necessary to upgrade the form of Putin's communication with journalists. Peskov said it was natural for the head of state to meet journalists at yearend to brief them on most urgent topics.
He agreed it was extremely rare when any of the journalists managed to take the president by surprise. "As for the president's experience and knowledge of major topics in detail, it is really true," Peskov explained.
The Kremlin spokesman said it was impossible to modernize the format of the annual news conference. "We cannot upgrade journalists' questions – it would be wrong and impolite on our part," Peskov added.