Rio de Janeiro's Central Train Station, or Central do Brasil, made famous by a movie of the same name, used to be one of the country's oldest train stations, and a symbol of the rapid development of Brazil's economy in the middle of 20th century.
Now the station is mostly a tourist spot, not a transport hub. Brazil's railway network, which is mainly in the south, southeast and northeast of the country, accounts for only 24 percent of the total capacity of the country's transportation system. About 35 percent of the rail network was built 60 years ago.
Starting in the 19th century, railway transport in Brazil had a long and successful history. The railway entered a golden era of development after being nationalized in 1957 (under RFFSA — Rede Ferroviária Federal, Sociedade Anônima). Between 1999 and 2007, RFFSA was broken up, and a variety of private and public operators now operate service.
Ivanildo Marcos Beltrao, a 70-year-old railway engineer, used to work for the RFFSA. He is now a director of Valec Railway Engineering Corporation's Rio branch, a subsidiary of Brazil's Transport ministry. His office, which is close to the Central Train Station, used to be the headquarters of RFFSA.
"During RFFSA's golden era, Brazil had 30,000 miles of railway networks, and thousands of staff working in the building of my current office. But after privatization started in the 1990s, railway construction began to decline, and the RFFSA was eventually disintegrated," said Beltrao.
"I had been involved in Brazil's railway construction since I was younger than 20. In the 50 years of my career afterwards, I have mainly engaged in railway planning and network maintenance. I can proudly say that before privatization, Brazil's railway maintenance was quite good," he added.
During the 1990s' privatization process, the RFFSA and a number of state-owned railway companies were sold out. Railway transport in the country became private property, and was used only for transporting freight, with the transporting of passengers virtually canceled. The only remaining railway connection between Rio and Sao Paulo, the Silver Express line, ended operations in 1998.
According to Beltrao, speeding up railway construction is back on the government's agenda. His current company was established in 2008, and has undertaken some rail projects.
In June, Brazil's railway encountered a turning point when President Dilma Rousseff presented her government's Logistics Investment Program, an update of a 2012 plan to spur economic growth and boost connectivity.
"Over the coming years, Brazil's transport sector will see an investment of some 198.4 billion reals ($64 billion) to modernize the country's airports, highways, trains and ports," the official government website reported.
"The expansion of Brazil's rail network is essential to becoming more efficient and relieving the burden of cargo transport by land," Rousseff added.
Among Brazil's plans to improve the rail network is a China-backed transcontinental railway linking the country's Atlantic coast with Peru's Pacific coast. It would cross the agricultural heartland of Mato Grosso State and the State of Para, rich in mining resources. The line would create a South American trade corridor, making it easier for Brazil, China's main Latin American trading partner, to export products to China without going through the Panama Canal to the north.
Beltrao also highlighted China's vast experience in rail building, saying it is something Brazil lacks. "When I was young, French and British experts gave us lots of technical help. I found that these years with the rapid development of China's railway construction, its technology and experience are worth learning from. Brazil warmly welcomes China's railway companies, technical experts and investment come to our country."
The coast-to-coast rail link was one of the main cooperation projects between China and Latin America promoted by Chinese Premier Li Keqiang during his four-nation tour of South America in May, which included Peru, the Pacific terminal of the proposed railway.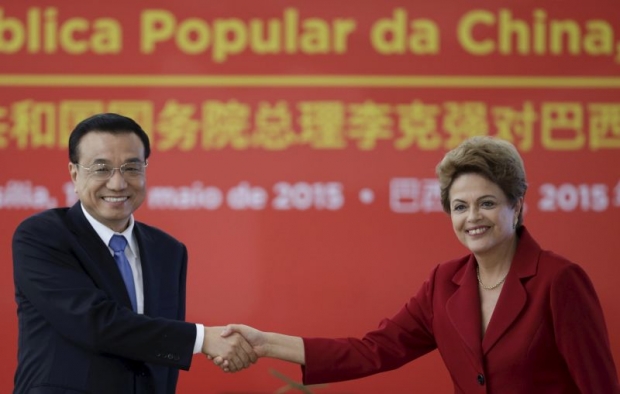 A joint feasibility study on the proposed link is expected to be ready by May 2016 and officials have said that protecting the environment will be a priority.