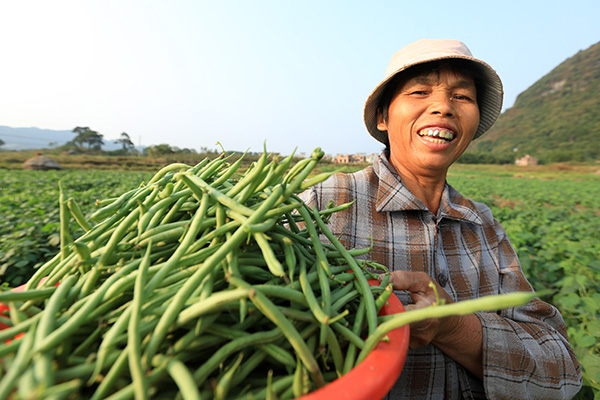 China is planning to boost exports of vegetables to Russia and Central Asian nations to offset declining demand and rising anti-dumping duties from traditional importers like the United States, Brazil, Japan and South Korea, officials said.
Chai Liping, secretary-general of the Beijing-based China Vegetable Association, said traditional markets have used tariffbarriers, extremely harsh quality tests and withdrawn shipments without any adequate explanations. To counter this,Shouguang, a major vegetable-growing city in East China's Shandong province, has decided to establish the Shouguang-Russia Border Trade Association to diversify export channels in global markets.
Northeast China's Heilongjiang province, which borders Russia, will also establish 20 vegetable-growing bases to grow carrot,onion, tomato, sugarbeet, salad potato and colored sweet pepper in select counties and towns to develop border trade.
China's vegetable exports to traditional markets have confronted multiple pressure in recent years. Take garlic for instance. Brazil currently imposes anti-dumping duty of $0.78 per kilogram of Chinese garlic, while the United States has an anti-dumping tariff as high as 376 percent for the same product since 1995.
Both the European Union and Indonesia implement strict quota control on China's garlic exports. The state-run South Korea Agro-Fisheries and Food Trade Corp even refused to approve the import of 2,200 metric tons of garlic shipped by Shandong exporters in January because of what they called quality issues, resulting in a loss of more than $1.59 million for the farmers.
Because of geopolitics and regional conflict in Ukraine, Russia had already banned all import of fruits and vegetables from Europe and food from the United States in response to previous Western sanctions in 2014. Chai said this has encouraged Chinese export to its neighbor amid the current international market demand.
"The new projects in Heilongjiang will not only mark direct exports to Russia, but also help develop several logistics,distribution and price-setting hubs for exports of vegetables to Russia's Far East region where most land cannot producevegetables or fruits due to cold weather condition," said Chai.
"Judging from our future orders, Russia's market demand is quite encouraging and may become stronger next year," said LinGuangming, vice-general manager of Shandong Shouguang Vegetable Trading Co. "Setting up a trade association will definitely help us gain growth momentum."
He expects sales to Russia this year to rise by 60 percent from last year to 2.1 billion yuan ($331 million). Exports to Russia reached 810 million yuan in the first half, a 24 percent increase year-on-year.
With a total export value of $12.5 billion, China's vegetable exports amounted to 9.76 million tons in 2014.