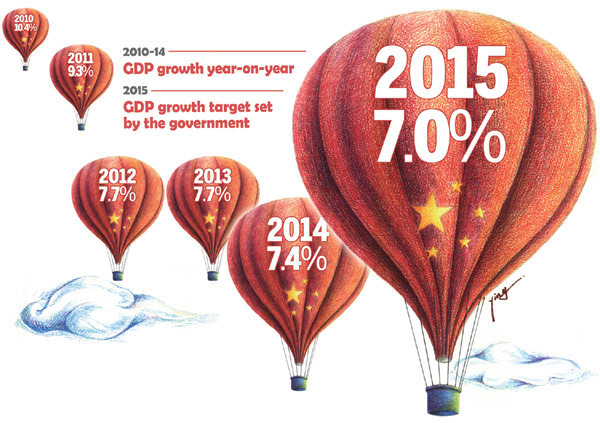 Against the backdrop of the global struggling for economic recovery and the worsening situation in some emerging markets in 2015, China's economy has remained a strong engine for the world economy.
Though the Chinese economy has changed to a "new normal" of more sound and slower growth, it continues to create development opportunities for the world.
At the G20 summit held in the Turkish resort city of Antalya, Chinese President Xi Jinping said that despite a recent slowdown, China has still contributed 30 percent of world economic growth, which means China is still a major world economic powerhouse.
It is predicted that the world's second largest economy will grow around 7 percent this year, and will continue contributing as high as about one third of the global growth, Xi said.
China's confidence comes from its determination and actions to comprehensively deepen reform, strengthen economic endogenous dynamism and policy guidance to build a "moderately prosperous society" and double its 2010 GDP and per capita income of both urban and rural residents by 2020.
"New Normal" Reasonable, Beneficial
Like other economies, China's economy experiences different phases of its development cycle. It is now shifting its focus to consumption and service industries from polluting heavy industries and manufacturing via complex reforms.
A natural result of the transition is lower yet sustainable and balanced growth.
"The change is rational and necessary, and is a prompt solution in the context that the world has just overcome a crisis and been in a restructuring and recovery process since 2013," said Can Van Luc, senior executive vice president of the Bank for Investment and Development of Vietnam.
Steven Barnett, former chief of the China Division in the International Monetary Fund's (IMF) Asia and Pacific Department, said the "new normal" of China's economy is good for both China and the world.
"Even at a growth rate of 6 percent, China's contribution to global economy is quite similar to what it was before," he said.
Charles Collyns, managing director and chief economist at the Institute of International Finance (IIF) in Washington, said "it would be better for China to allow somewhat lower growth of GDP and make more progress dealing with the problems of the transition to a new more market-oriented economy less reliant on credit investment."
"The key thing is to make sure China is engaged at the global level. This is why I think including the RMB (the Chinese currency) in SDR (the IMF's Special Drawing Rights) was an important step because it makes very clear that China is part of the global financial architecture," he said.
Alberto Ades, co-head of global Economics Research of Merrill Lynch in New York, said "as China's economy slows down, the composition of economic activities is shifting: manufacture and construction are slowing, while the service sector is doing pretty well."
"It is important for China and also the countries that trade with China. The beneficiary of the renewed cycle of China will be the United States, countries in the European Union and in Asia," he said.
Luc said "over the past two years, though Chinese economic growth has slowed down, Vietnam-China trade relations have maintained good growth, with an average increase of 14 percent year-on-year."
Sino-African cooperation can be also exemplary for win-win situation. Under the economic "new normal," China prioritizes the manufacturing sector in its industrial cooperation with Africa to help the continent break from its colonial legacy of being a net exporter of raw materials and become an exporter of finished products and services.
The Chinese government has also rolled out about 900 assistance programs in Africa covering agriculture, health, education and other fields and offered training to over 30,000 local people since 2012.
New Efforts In Common Development
As the global economy struggles to recover, China has been working vigorously to address challenges by proposing and promoting fresh initiatives.
Such proposals have injected new impetus into the world economy. The most conspicuous of them include the Silk Road Economic Belt and the 21st Century Maritime Silk Road initiatives (the Belt and Road Initiative), the Asian Infrastructure Investment Bank (AIIB) and the New Development Bank for BRICS which groups Brazil, Russia, India, China and South Africa.
The Belt and Road Initiative, put forward by Chinese President Xi during his overseas visits in 2013 with an aim to connect Asian, European and African countries more closely, has received warm responses from and active participation by over 60 countries and international organizations.
"It's a very important initiative," said Pieter P. Bottelier, a senior adjunct professor of China studies at the School of Advanced International Studies of the Johns Hopkins University.
"You provide infrastructure first and then development will come. Without infrastructure no sustainable development can happen," he said, adding that China has large capital and "so much experience in infrastructure construction not just in roads, bridges, but also in equipment, especially high-speed trains and ordinary trains."
Xi said at the APEC summit held in the Philippines in November that "through implementing the Belt and Road Initiative, we will go for even broader, deeper and more sophisticated cooperation at the regional level, and jointly foster a regional framework of open, inclusive, balanced and mutually beneficial cooperation."
Collyns said "it's certainly appropriate for China to increase its role as a provider of capital in key areas."
"Increasing infrastructure investment in Asia is a very important objective. That will benefit not just China but also benefit neighboring countries who need more infrastructure investments for being able to grow," he said.
To bolster the initiative, China has established and put into operation the Silk Road Fund and is working actively to prepare the launching of the AIIB.
Since established in December 2014, the 40-billion-U.S.-dollar Silk Road Fund has invested in a range of projects such as a hydropower station in Pakistan and the acquisition of the Italian tyre maker Pirelli by China National Chemical Crop.
The AIIB, aimed at helping finance infrastructure construction in Asian countries, has attracted more than 50 countries, including some major industrialized countries like Britain, France and Germany, and is expected to begin operations in January 2016.
"The AIIB is a very good initiative. I think the U.S. made a big mistake by staying out of it. I believe that overtime this can become a very valuable multilateral instrument for development," Bottelier said.
Optimistic Outlook
In the short term, China would continue to bolster the global economy, as "the United States, Japan and Europe have all run out of ammunition," said Xie Dongming, an analyst with the Singaporean bank OCBC Bank, referring to the fact that those countries either have zero interest rate or have adopted quantitative easing policies.
The Vietnamese economist Luc said that China has strong resources with abundant foreign reserves, a humble budget deficit and low public debts.
"Thus, there is room for China to loosen its monetary and financial policies such as decreasing interest rates or dropping required reserves," he said.
Moreover, as China is determined to change its economic growth model by pursuing innovative, coordinated, green, open and shared development, it is expected to achieve a sustainable development and balanced growth, which is good for the whole world.
China's 13th Five-Year Plan, a blueprint for China's development in 2016-2020, clearly lists innovation as the number one driving force for growth which focuses on quality and efficiency.
Collyns said a "growth rate around 5 percent to 6 percent in the next five years will be fully achievable, and it will be consistent with the objective of creating jobs for Chinese workers and improving environment with more sustainable natural resources."
"China will still grow very fast relative to the rest of the world economy," he said.
Gu Qingyang, associate professor of the Lee Kuan Yew School of Public Policy of National University of Singapore, said Xi's speech at the APEC summit signaled China's determination to further open up, which will strengthen its role as a locomotive for the global economy.
Xi said that China is working to build a new open economy with an even higher level of openness, and that China is committed to open regionalism and policy coordination with countries in and beyond the region.
"The prosperity of China is important to the global economy," said Robert Hormats, vice chairman of Kissinger Associates. "More market-driven economy of China is good for the global outlook."