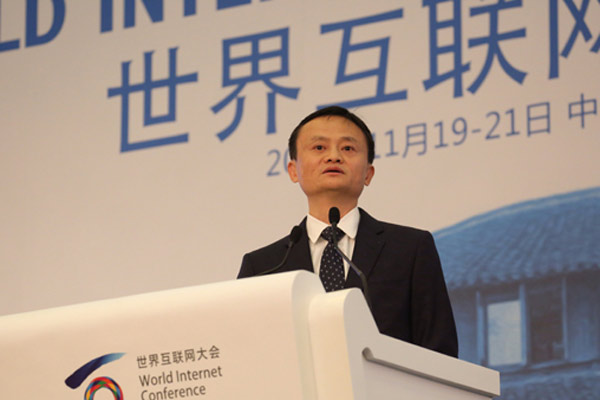 China's three biggest internet conglomerates formed an "Internet-Plus alliance" on Wednesday at the World Internet Conference, the most prominent state internet event.
"We will provide new momentum for economy transformation and bear the 'new norm' [of China's slowing economy] together," said Li Shilin, the alliance's vice-secretary.
The term "Internet Plus" has been a catchphrase in China since earlier this year, after the government coined the term to describe the application of internet technology to conventional industries.
Jack Ma, founder of e-commerce giant Alibaba, will chair the alliance, which includes Baidu, Alibaba and Tencent, collectively known as BAT.
The three firms together dominate China's cyberworld in areas from e-commerce to video streaming and are in fierce competition.
The grouping also includes companies, government organisations as well as NGOs, Li said, adding that the alliance's leading organiser was the China International Development fund, which is governed by the State Council.
The alliance was announced on Wednesday at the World Internet Conference's internet finance forum, which called for tighter regulation of internet finance and an expansion of internet finance services for the masses.
The conference deals not only with technology and business but also governance in cyberspace, which extends to individuals and companies as well as international entities.
The event's cybersecurity forum covered more than just security issues.
"We respect the netizens' right to communicate and express their needs," Wang Xiujun, vice-director of the state internet information office, said.
"But we should also build a better environment and regulate online activity. Every individual and every organisation should be responsible for their conduct online."
At another forum, titled "Building a Silk Road for Win-Win Cooperation", International Telecommunications Union secretary general Zhao Houlin said the union planned to use its unique advantages and Beijing's "One Belt, One Ray" initiative to cooperate with other projects in China and help bridge the digital divide in countries along the Silk Road.
Jin Liqun, president-elect of the Beijing-led Asian Infrastructure Investment Bank, said during the same forum that the AIIB supported the setting up of a transparent, multilateral international internet governance system to provide a safe cyberspace for all.
"AIIB was born into an era of new information technology, such as big data, cloud computing and the mobile internet. These represent an increasingly widespread and deep integration into an era of global socioeconomic being, Internet-based innovation, entrepreneurship and economic growth," Jin said.
He said AIIB staff could also use big data to analyse ways to support the internet sector in different countries.