BEIJING, Dec. 1 (Xinhua) — China-Africa cooperation, as a template for South-South cooperation, is expected to reach a new depth as President Xi Jinping pays state visits to Zimbabwe and South Africa this week and chairs the Forum on China-Africa Cooperation (FOCAC) in Johannesburg.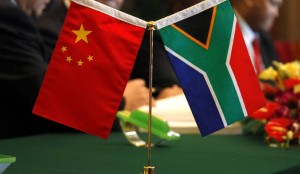 China's new initiatives to promote its comprehensive cooperation with Africa are expected to be announced during Xi's visit. New measures to help Africa will cover industrialization, food security, public health and disease prevention. Peace-keeping and security are also expected to be discussed at the forum.
After 15 years of development, the FOCAC has become a brand for China's diplomacy. Xi's attendance at the forum will become a milestone for the transformation and upgrading of China-Africa cooperation.
The Chinese government issued the first document on Sino-African cooperation in 2006, which played an important role in promoting bilateral ties. The second document expected at this summit will further demonstrate the firm resolution on the friendly cooperation.
The concept of "sincerity, real results, affinity and good faith," which Xi expounded in a speech in Tanzania during his maiden trip to Africa in March 2013 after taking office, has been adopted in China's relations with Africa, producing a win-win, mutually beneficial cooperation.
By helping Africa with its industrialization and agricultural modernization, China will solve big problems for Africa. Meanwhile, at a key moment of economic transformation, the economies of China and Africa are complementary. The China-proposed Belt and Road Initiative will create new opportunities for Sino-African industrial cooperation.
For decades, the two sides have always shared weal and woe and treated each other sincerely like brothers. They share much in common and hold similar stances on many international and regional issues. The suffering and hardships they both experienced help them understand each other. The traditional friendship has become a valuable treasure for both sides.
At the upcoming forum, wildlife protection will be part of the high-level discussions. Sino-African cooperation will not come at the expense of the environment and sustainable development on the continent.
By increasing support for Africa, China has helped the continent improve peacekeeping and stability. The country supports solving African issues in an African way, as assistance comes without any political strings attached.
The bilateral cooperation has been all-around. China has delivered more than 750 million yuan (117 million U.S. dollars) worth of humanitarian aid and sent hundreds of medical workers to the front line in Ebola-stricken West Africa.
As China has become the continent's largest trading partner, with trade volume expected to exceed 300 billion U.S. dollars in 2015, the Sino-African cooperation will inject fresh vigor into world economic recovery and helps realize the United Nations Millennium Development Goals.