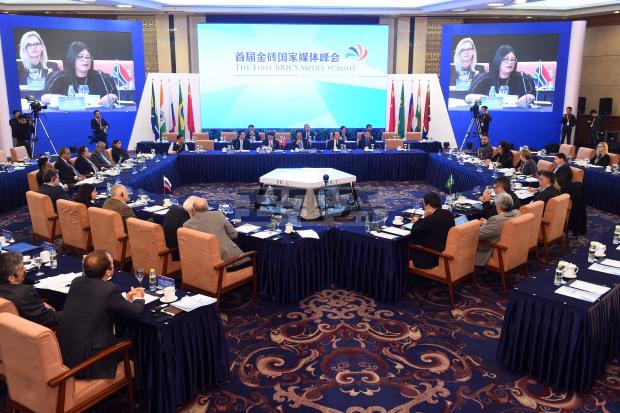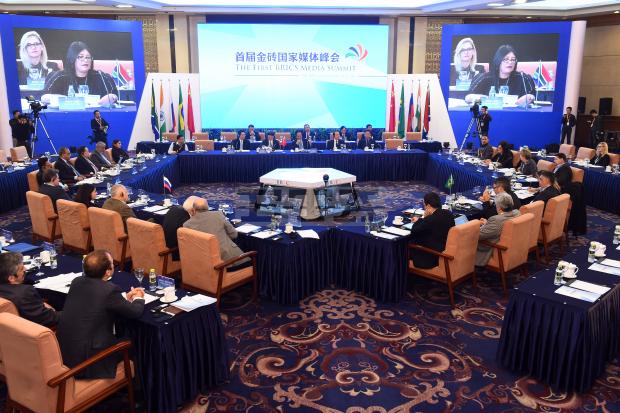 Leaders of 25 media organizations from BRICS countries vowed to strengthen cooperation during the first BRICS Media Summit that concluded here on Tuesday.
At the one-day event, they issued a Beijing Declaration, pledging to enhance friendship and mutual understanding among BRICS' peoples and promote mutually beneficial cooperation in economic, social and other fields through "objective, impartial, comprehensive and timely reporting".
"We will also explore ways to strengthen multilateral and bilateral cooperation in reporting, so that we may come together and tell stories that truthfully reflect BRICS' cooperation," said the declaration.
At the summit, the media leaders exchanged views on how to propel traditional and new media's complementary and integrated development.
"We propose that BRICS media organizations follow new trends in information dissemination and propel change with innovation while following the rules of news transmission and new media development," said the document.
The media leaders said they hope that all forms of media in BRICS countries, in keeping with the BRICS spirit of openness, inclusiveness, cooperation and win-win, may promote pragmatic cooperation and common development, and enhance communication and mutual trust with media organizations in BRICS and other countries.
One day before the summit, co-organizers held a presidium meeting and nodded six initiatives on practical media cooperation among BRICS countries.
They promised to set up a liaison office for BRICS Media Summit, establish BRICS Media Foundation, set up BRICS Media Journalism Awards, hold a joint photo exhibition, train journalists, and build a coordination mechanism for joint coverage of the G20 Summit in 2016.
The BRICS Media Summit, with the theme of "Innovation, Development, Cooperation and Trust", was proposed by Xinhua and jointly organized by Brazil Communication Company, Russia Today International Information Agency, The Hindu Group and South Africa's Independent Media.
Xinhua editor-in-chief He Ping said at the closing ceremony that the unprecedented event will become an open and pragmatic mechanism, under which more media cooperation will bear fruit.
Minette Havemann, executive from Media 24 of South Africa, said the summit provided a good opportunity to learn from each other, exchange media experience, and discuss cooperation and challenges the media are facing.
Ashok Kantha, Indian ambassador to China, said the summit will enhance cooperation among the media of the five countries.
"They'll support each other, do events jointly, and expand their collaboration. This will be for a common good," said Kantha.