U.S. Vice President Joe Biden speaks at the opening ceremony of the seventh China-U.S. Strategic and Economic Dialogue (S&ED) and the sixth China-U.S. High-Level Consultation on People-to-People Exchange (CPE) in Washington D.C., the United States, June 23, 2015. China and the United States opened their annual high-level talks here Tuesday to deepen cooperation in strategic and economic issues and further promote people-to-people exchanges. (Xinhua/Bao Dandan)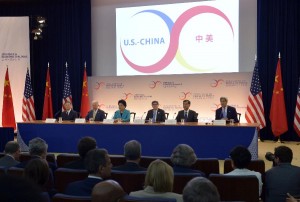 WASHINGTON, June 23 (Xinhua) — Kicking off the annual high- level talks here Tuesday, China and the United States reaffirmed their commitment to continue close cooperation on tackling varied issues facing today's world, while promising to manage their differences in a responsible way for the benefits of both sides and the world as a whole.
U.S. Vice President Joe Biden opened the seventh China-U.S. Strategic and Economic Dialogue (S&ED) and the sixth China-U.S. High-Level Consultation on People-to-People Exchange (CPE) at a ceremony held Tuesday morning at the Sate Department.
The S&ED is co-chaired by Chinese Vice Premier Wang Yang and State Councilor Yang Jiechi, special representatives of Chinese President Xi Jinping, and U.S. Secretary of State John Kerry and Treasury Secretary Jacob Lew, on behalf of U.S. President Barack Obama. The CPE is co-chaired by Chinese Vice Premier Liu Yandong, a special representative of Xi, and Kerry.
In his opening speech, Biden saluted China for being a responsible stakeholder in many ways in the past years as it has cooperated with the U.S. in dealing with a series of regional and global challenges.
He specifically commended "some important steps" taken by China to address climate change, conduct market-oriented economic reforms, contribute to stronger and more sustainable growth in global economy, combat radical terrorism, fight Ebola epidemic, join international peacekeeping operations, and help bring lasting peace to Afghanistan and Sudan.
"These are welcome actions that impact in a very positive way the growth and security of China, but also the region and the world," he said.
According to Biden, the U.S., instead of fearing China's rise, wants to see the Asian giant's rise as it could be a significant asset for the region and the whole world.
This year's S&ED will cover a wide range of bilateral, regional and global issues of common concern, including climate change, interaction in the Asia-Pacific region, managing differences and sensitive situations, the United Nations and multilateral affairs, science and innovation, green ports and ships, as well as fighting illegal trade in wildlife.
During the economic dialogue, officials will have in-depth discussions on macro-economic policy and restructuring, trade and investment promotion, and financial market stabilization and reform, including the exchange of "negative lists" on a mutual investment treaty, which outline sectors that are closed to foreign investment.
The CPE talks will focus on cooperation in education, science and technology, culture, health, sports, women and youth. Before heading to Washington on Monday, Liu had already visited Pittsburgh, Pennsylvania and Houston, Texas for a series of meetings and interaction with U.S. officials, athletes, students, college deans and Chinese students in the United States.
CALLING FOR HEALTHY COMPETITION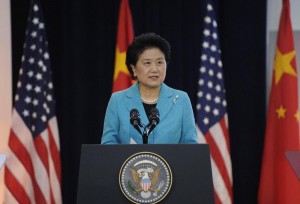 This year's S&ED and the CPE, which come at a time when there are a few hiccups in bilateral relations due to the rift over the South China Sea and cyber security, have attracted a lot of attention worldwide as all eyes are on how the two great powers will manage their differences.
With an eye to the differences between the two sides, Biden said the U.S. welcomes "healthy and fair competition" from China and believes strongly that whenever possible, China should be included at the table of writing new rules.
Biden promised that, as part of its Asian rebalance strategy, the U.S. is "working to build more constructive and productive ties with China" and address the differences candidly and constructively despite that there will be "intensive" competition and disagreements.
Kerry also applauded the "very positive steps" taken by the two countries in tackling issues including climate change, Iranian nuclear talks, fight against Ebola virus, and military-to-military engagement.
"So more and more I think we have both decided that our partnership is an essential starting point to the resolution of global problems," Kerry said, noting that the world is looking to the two countries to fulfill their commitments.
He added that the U.S. is aware that the two countries will not agree on all issues, but "we don't accept that a narrowing of differences is beyond our reach."
Liu said that, facing the complicated and volatile international situation, the two sides should and can work together in a wide range of areas. "As long as our two countries adopt an overall perspective, respect and accommodate each other's core interests and be committed to a constructive approach to reduce misunderstanding and miscalculations, we can manage our differences and maintain our common interests," she said.
PLEDGING TO CONTINUE COOPERATION, MANAGING DIFFERENCES
At the same time, both sides have expressed the willingness to continue their cooperation on a wide range of issues while responsibly managing their differences.
It is the common wish of both sides to achieve a win-win relationship through joint cooperation and avoid the historical trap of zero-sum great power rivalry, Wang said, warning that both countries, and the world as a whole, will have to pay heavy prices if they head for confrontation.
The two countries should keep on the path of building a new model of major-country relationship to seek peaceful co-existence despite all the difficulties that they may face on the road ahead, he said.
Yang also said China and the U.S., as the largest developing country and biggest developed nation, should stand on the higher ground to look at and deal with the bilateral ties, and stick to the path of pushing forward their cooperation, working together to maintain world peace and security, and helping every nation in the world with their development.
"So the point I'm driving is that both of us have our respective strengths. We need to be mutually complementary to each other. We need to turn competition into cooperation," Yang said.
Lew noted that the U.S. and China "have an enormous stake in each other's economic performance." As the world's two largest economies, a mutually beneficial economic relationship is of great importance "not only to the prosperity of our own peoples, but to the health and development of the global economy."
Biden said the two sides cannot solve all the problems at this talks or multiple meetings, but "we have to be committed to working towards solutions in each of these areas," including economic growth, trade and investment, climate change, energy, maritime security, cyber issues, human rights, public health and education.
REAFFIRMING NEED TO SUSTAIN DIALOGUE MECHANISM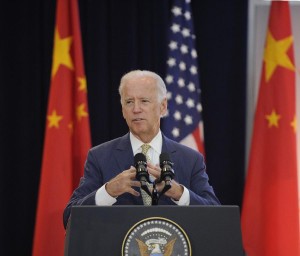 Despite some criticism for lacking major breakthroughs, both sides commended the annual S&ED and CPE for their great contribution to helping the bilateral ties mature in the past years, while calling for sustaining the momentum of continuing dialogues and consultations.
"Our high-level, multidimensional dialogue is a testament to the greater maturity of relations between our two nations. Dialogue helps us understand each other's thinking and get to the crux of how to make cooperation work and better handle differences, " Wang said.
Wang praised the annual high-level talks, which have gained more than 170 achievements in various fields in the past seven years, for injecting "positive energy" into bilateral ties and global development.
He cited "substantive progress" achieved on major issues, including the bilateral investment treaty negotiations, climate change, and the expansion of Information Technology Agreement, just to name a few.
"Our dialogue mechanism may not be perfect, but it is an indispensable platform for the two countries to increase mutual trust, deepen cooperation, and manage differences," Wang said.
Calling the U.S.-China relationship dynamic, Kerry said it has "grown and matured steadily in the past decades, and most notably in recent years," adding "We each have a stake in continuing that momentum."
Lew also praised the S&ED for being "a key mechanism for generating practical cooperation on issues across our relationship, " which has led to important, tangible results for both sides so far.
PREPARING FOR A SUCCESSFUL VISIT BY PRESIDENT XI
At the same time, both sides agreed that this year's talks will help pave the way for a successful state visit to the U.S. by President Xi in September.
Liu said President Xi "takes this S&ED and CPE very close to his heart" and asked her to convey a message to President Obama, Kerry, Lew and all other U.S. officials taking part in the talks.
Wang pledged that the Chinese team would work with the U.S. colleagues to "lay a solid foundation for a successful visit by President Xi while adding a mark of success for the Obama administration."
Lew echoed Wang's statement, saying this year's talks provide an opportunity for the two sides to hold frank discussions on areas of concerns and manage differences so to "work through issues to prepare for a productive leaders' meeting in September."