WASHINGTON, June 23 (Xinhua) — China's Finance Minister Lou Jiwei said Tuesday that the United States should take on more responsibilities to boost global economic recovery in accordance with its capacity as the world's largest economy.
"Currently China contributes about 30 percent of the global economic growth, while the United States contributes about 10 percent. As the world's largest economy, the United States should take on more responsibilities," Lou told a press briefing on the sidelines of the seventh China-U.S. Strategic and Economic Dialogue (S&ED), which opened on Tuesday.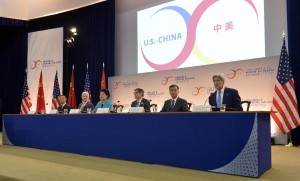 During the global financial crisis, China had helped boost the global economic growth by 50 percent, which was an unsustainable model, Lou noted. He urged the U.S. side to accelerate structural reform by saving and investing more, and raise its labor participation rate.
He underlined that the quantitative easing and fiscal measures are short-term remedies, while implementing structural reform is the fundamental way to realize sustainable and balanced growth.
China is also undertaking structural reforms by loosening administrative approval rules and liberalizing the pricing of the factors determining the economic activities to spur potential output and productivity, he added.
The two-day S&ED is an annual bilateral platform for the world' s two largest economies to exchange ideas on a set of thorny issues like trade and investment barriers, intellectual property rights protection and exchange rates.
During this year's economic dialogue, officials are having in- depth discussions on macro-economic policy and restructuring, trade and investment promotion, and financial market stabilization and reform.