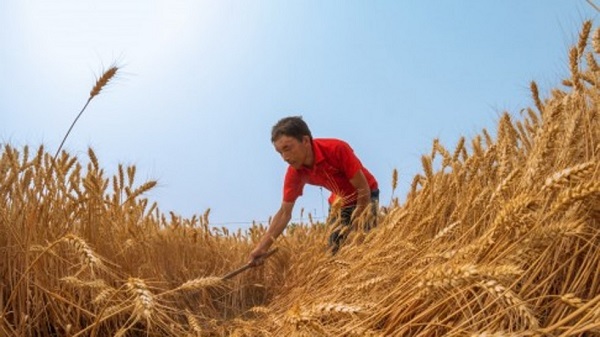 China is encouraging more enterprises to invest in agriculture in Russia's Far East, Minister of Agriculture Han Changfu said on Monday.
Investment of enterprises from Heilongjiang Province, which borders Russia, has yielded handsome returns, Han said at a press conference on the sidelines of the annual session of the Chinese Parliament.
Russia's Far East Federal District, a region two-thirds the size of the US is a vast expanse of territory between Siberia and the Pacific Ocean. President Vladimir Putin has stressed that Russia will prioritize development of the region.
The Far East has a population of just 6.3 million and wide swathes of unfarmed fertile land.
The Chinese Agriculture minister on Monday said he expects more Sino-Russo cooperation in agricultural research and development as well as professional training.
The two sides have had a solid foundation to expand agricultural cooperation, a significant aspect of bilateral ties, Han said in Beijing.
Chinese investment is a lifeline for the local population in the region cut off from Russia's western-facing economy.
According to the UN, China's ability to feed a fifth of the world's population will become tougher because of land degradation, urbanisation and over-reliance on fossil-fuels and fertiliser.
China's increasing demand for crops and produce and agricultural projects in the Russian Far East are a natural fit.
By 2050, China will import $150 billion annually of chicken, pork, and beef, as meat consumption surges on the back of the rising affluence of its growing middle class.
According to a report by the US Department of Agriculture's Economic Research Service, China is expected to account for 40 per cent of the rise in the global corn trade over the coming decade, and will become the world's leading importer of corn by 2023.
Russian President Vladimir Putin has called for tax breaks and improved investment conditions in Russia's Far East. A Far East development ministry was established in 2012.
China and other energy hungry Asian markets, bordering its Far East are increasing economic and business ties with the Russian Far East.
Chinese firms already lease or control at least 600,000 hectares of land in the Far East.
"We are interested in attracting Chinese investment into agrarian projects in Siberia and the Far East. In turn, as the world's largest country with the biggest reserves of arable land we can supply China with food products, especially agricultural products," Russian Premier Dmitry Medvedev told his Chinese counterpart Li Keqiang in Moscow in 2014.
Russia-China Investment Fund (RCIF) is a major investor in joint projects in the region.