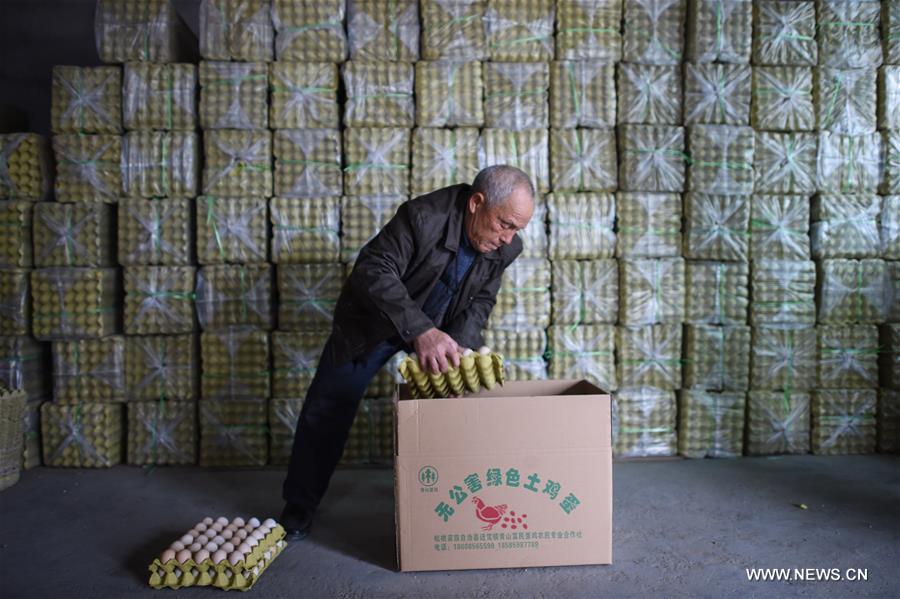 This year was the first time farmer Zhou Zhuwen used internet shopping to prepare for the spring farming.
Using a rural service center set up by e-commerce Alibaba in the nearby Luoxi Village, east China's Jiangxi Province, he managed to save 50,000 yuan (7,679 U.S. dollars) when purchasing 20 tons of fertilizer for the spring crops.
The center opened in January, allowing farmers easy access to Alibaba's Taobao and Tmall online retail platforms. In late February, Taobao launched a spring farming promotion, offering deals on products such as pesticides, fertilizers, seeds and farm equipment, as well as a service offering micro loans for farmers.
"When buying online, the price is cheaper and the choice is better," Zhou, 44, said.
With 33 hectares of sprawling rice paddies to plant, Zhou said the service saves time and transportation costs.
In the past, he had to drive long distances to pick up goods from his dealer in the county seat. At the Taobao service center, he's given access to free computers and trained shopping guides help ensure a timely delivery of purchases.
In the past, shopping in rural China has been characterized by limited choices, inflated prices and shoddy quality, said Yin Xiaojian, deputy director of the rural economy institute under the Jiangxi Academy of Social Sciences. With lower incomes, a dispersed population and poor logistics, the hinterlands have not attracted many brick-and-mortar stores.
The foray of China's e-commerce giants into the spring farming market is expected to change shopping habits for farmers, supporting the government policy to boost rural household consumption, said Zheng Fengtian, a professor with Renmin University of China.
Despite the economic slowdown and stock market collapse, e-commerce sales grew 21.2 percent in 2015 to 16.2 trillion yuan, according to Chinese consulting firm iResearch.
In hopes of maintaining online sales momentum, Alibaba and its rivals JD.com and Suning.com are looking beyond the typical young, well-educated urbanite demographic and heading for the countryside, where about half of the 1.3 billion Chinese people live.
Taobao has set up 560 village-level service centers in Jiangxi and is expected to cover 80 percent of all counties by the end of 2017, said Li Li, head of the Jiangxi branch of Alibaba's rural Taobao department.
"We are confident we will sell farming materials and tools worth 1 billion yuan during the spring farming season this year," said Li.
Alibaba plans to invest 10 billion yuan to establish 100,000 village service centers in three to five years, mostly to teach rural people how to make best use of the Internet.
Suning has established 42 county-level service stations in Jiangxi and 1,000 across the country since the beginning of 2015. It plans to expand to villages to offer electric appliances and daily necessities, said Wang Yongfei, head of Suning's rural e-commerce department Jiangxi branch.
The Chinese government is also encouraging agriculture-related enterprises to go online.
Jiangxi Tenglong Bio-Pharmaceutical Co. Ltd has just signed an agreement with Alibaba to sell antibiotics, mainly for use in breeding, on Taobao in April.
"Sales have been sluggish, with too much reliance on the traditional dealers," said Wen Tao, general manager of the company.
He said they plan to offer a small selection of their products online in order to test the waters.