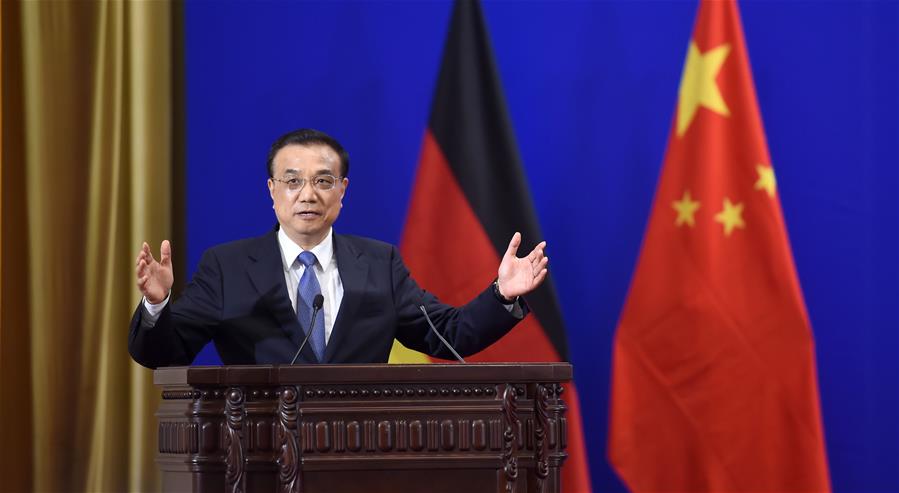 China will take measures to provide more opportunities for investors from home and broad, said Premier Li Keqiang on Monday, pledging to enhance law enforcement efforts to protect intellectual property rights.
Li made the remarks when attending the meeting of the China-German Economic Advisory Committee together with his German counterpart Angela Merkel Monday afternoon at the Great Hall of the People in Beijing.
China has taken great steps forward in the reform and opening up in the past three decades, Li told the Chinese and German entrepreneurs present at the meeting.
"In the future, China will continue to ease market access and take more measures to provide more and greater opportunities for investors from home and abroad," he said, encouraging Germany to make joint efforts with China.
China will continue to improve the intellectual property rights protection system, enhance law enforcement efforts and better protect the rights of enterprises, researchers and the public in the hope of releasing their creative powers and entrepreneurship so as to help advance the transformation and upgrading of China's economy, Li said.
Chairmen and general managers from Siemens AG, Thyssenkrupp AG, ALBA Group, CLAAS KGaA and China Railway, CRRC Corporation Limited, Baosteel Group gave their views and suggestions at the meeting on industrial cooperation including intelligent manufacturing, cooperation on third-party markets and trade and investment environment.
Hailing the discussion "pragmatic, pointed and forward-looking," Li said the advisory committee plays an important role in bilateral cooperation.
He called on the committee to continue to strengthen exchange of views and break the information asymmetry in order to better accommodate the overall situation of the China-German cooperation.
On the issue of production capacity surplus in some industries, Li said it is caused by weak recovery of the world economy and should be addressed by joint efforts from all countries.
"It is unreasonable to blame a certain country or aspect for this. It will harm others without benefit to oneself if some countries trigger a trade war," Li warned.
He urged all countries to address the challenges and preclude risks with market means in a cooperative spirit so as to defend trade liberalization.
Merkel, for her part, said the advisory committee is an effective mechanism to boost Germany-China economic cooperation.
She said she had in-depth discussion with Li on issues of common concern to both countries' businesses and reached many agreements during the consultation.
She called on both sides to give full play to the role of the committee to enhance dialogue and expand cooperation.
Representatives of the entrepreneurs expressed their hopes of grasping the opportunities of the integration between the strategies of "Made in China 2025" and "Industry 4.0," looking forward to a more equal and open market environment created by both governments.
Also on Monday afternoon, Li and Merkel attended the eighth forum on China-Germany economic and technological cooperation co-sponsored by China's National Development and Reform Commission and Germany's Federal Ministry for Economic Affairs and Energy at the Great Hall of the People.
Stressing that China will open wider to the outside world, Li said German companies and companies from other countries will see more opportunities in China especially in the area of new economy.
"No matter a company is a joint venture or a wholly foreign owned enterprise, as long as it is registered in China, it will be treated equally," Li told the forum attended by more than 800 business representatives from both countries.
With the expansion of China-Germany cooperation, the possibility of economic and trade frictions between the two is increasing, yet such a ratio in the overall mainstream cooperation will be decreasing, said Li.
Should both sides bear the overall situation in mind and equally open to each other, the two countries will enhance mutual understanding and properly solve differences, he said.
Calling Germany and China "important export markets of each other and partners of creation and research and development," Merkel said the two sides need to work together to well synergize strategies, explore new potentials and expand third-party markets so as to open up a new field of bilateral cooperation.
Merkel was on her ninth visit to China in the office of German Chancellor.
Li and Merkel held the fourth round of intergovernmental consultation on Monday. She paid a visit to Shenyang, capital of northeast China's Liaoning province on Tuesday before ending her three-day trip.