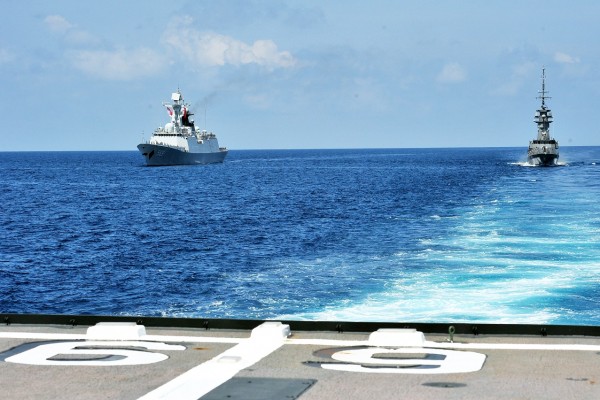 The navies of China and Russia will hold a joint drill in South China Sea in September aimed at strengthening cooperation, China's Defense Ministry said Thursday.
The two neighbours reached consensus on the drill, codenamed Joint Sea-2016, a spokesperson said.
"This is a routine exercise between the two armed forces, aimed at strengthening the developing China-Russia strategic cooperative partnership," China's defense ministry spokesman Yang Yujun told a regular monthly news conference.
"The exercise is not directed against third parties."
"These drills deepen mutual trust and expand cooperation, raise the ability to jointly deal with security threats, and benefit the maintenance of regional and global peace and stability," he said.
China has said it will not accept a ruling against it by an international tribunal in The Hague on territorial claims in the disputed waters. Chinese Foreign Minister Wang Yi called the ruling and the arbitration a "farce".
Beijing claims 90 per cent of the South China Sea, a maritime region believed to hold a wealth of untapped oil and gas reserves and through which roughly $4.5 trillion of ship-borne trade passes every year. Vietnam, Malaysia, Brunei and Taiwan have contesting claims on these waters.
Russia has backed Beijing's position that direct talks should take place between the affected parties and the region should guard against "external interference".
Beijing and Moscow will continue to coordinate policy on global affairs, Chinese President Xi Jinping had said after meeting his Russian counterpart Vladimir Putin earlier last month.
Xi has vowed to increase political support to Moscow, Chinese media reports said.
After talks in Beijing in June, the two countries signed a joint statement on strengthening global strategic stability.
The two allies have taken similar stands at international forums, including the UN, on major global crises, including Syria, Iran and the South China Sea.
"China and Russia should resolutely safeguard the purposes and principles of the UN charter, the basic norms of the international relations, global strategic balance and stability, as well as international justice," Xi said.
Putin echoed his sentiments.
"Russia and China stick to points of view which are very close to each other or are almost the same in the international arena," Putin said.
"Assistance in the Syrian peace process, supporting peace and stability in the South China Sea and Central Asia are among our common foreign policy objectives," he added.