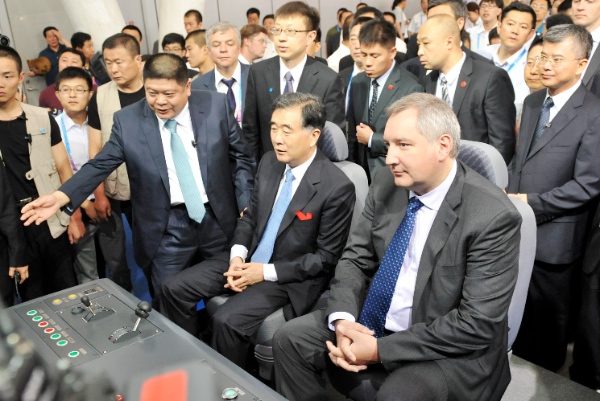 A Chinese province is set to host a China-Russia expo next month, intended to boost trade, finance and tourism between the two neighbours.
Chinese officials said representatives of over 50 Russian companies will arrive in northeast China's Heilongjiang Province next month for the trade fair where deals worth billions of dollars is expected to be inked. Heilongjiang accounts for about a quarter of China's total trade with Russia.
Top Chinese and Russian officials and industrialists will gather at Harbin to discuss investment cooperation from October 12-16.
This is the 2nd China-Russia Exposition. Russian Deputy Prime Minister Dmitry Rogozin launched the first expo with his Chinese counterpart Wang Yang last year.
Contracts worth $3.15 billion were signed at the first China-Russia Expo.
This year's theme is "Silk Road Economic Zone: New Opportunities for Cooperation", with an exhibition area of 86,000 square meters.
The trade fair has become one of China's major regional platforms to promote President Xi Jinping's "Belt and Road" initiative.
Under its so-called "One Belt, One Road" initiative, China aims to create a modern trade route known as the Silk Road Economic Belt and the 21st Century Maritime Silk Road.
Projects under the plan include a network of railways, highways, oil and gas pipelines, power grids, Internet networks, maritime and other infrastructure links across central, west and south Asia to as far as Greece, Russia and Oman, increasing China's connections to Europe and Africa.
China's President Xi Jinping said in March that he hoped China's annual trade with the countries involved in the "One Belt, One Road" initiative would surpass $2.5 trillion in a decade.
Meanwhile, the expo organisers said on Saturday in Harbin that Russian firms with interests in various sectors like agriculture, chemicals, aviation and aerospace, banking and finance, and heavy industry and metallurgy, are attending the event.
"The results of cooperation between China and Russia, especially in equipment manufacturing, science, technology and finance, will be featured during the event," said E Zhongqi, the Chinese secretary general of the organizing committee of the 2nd China-Russia Expo.
The expo will also attract businessmen from other countries, including Germany, the Netherlands, Belgium, the Republic of Korea, India and Singapore.
The week-long expo in the Chinese province is jointly held by China's Ministry of Commerce and the Russian ministries of economic development and industry and trade.
Northeast China's Heilongjiang Province is planning to increase investment in Russia by $1 billion by the end of 2015, and $2 billion by 2020.
The Chinese province, which borders Russia, plans to boost its trade volume to $26 billion by 2015, and $52 billion by 2020.