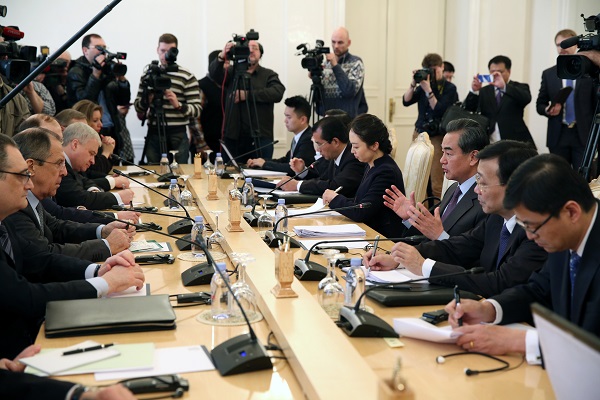 China is fully confident of the outlook of its relations with ally Russia, visiting Chinese Foreign Minister Wang Yi said after meeting with his Russian counterpart Sergei Lavrov in Moscow.
"China-Russia cooperation is not confined to bilateral levels, instead, the two countries have been coordinating and playing active roles in a number of international issues," Wang said on Friday.
"As each other's most important and prioritized partners, China and Russia are developing the comprehensive strategic coordination as a strategic principle, rather than any expediency," the Chinese Foreign Minister added.
Lavrov and Wang discussed bilateral ties as well as the fragile peace in Syria and the North Korean crisis.
Both Moscow and Beijing urged North Korea to return to talks over its nuclear program.
Pyongyang should "fully and comprehensively" implement the U.N. resolution, Wang said.
"At the same time, we will not spare efforts to return to the six-way talks," Wang added.
"The United Nations Security Council Resolution 2270 should be fully implemented, which would, on the one hand, block further development of North Korea's nuclear programs, and on the other, should not have impact on its people and humanitarian need," Wang said at a press conference after meeting Lavrov.
There should be no alternative to the UN Security Council resolution and unilateral sanctions should be avoided, the Chinese and Russian Foreign Ministers said.
Wang and Lavrov also slammed US plans to deploy an advanced missile system in South Korea.
"The deployment of this U.S. missile system far exceeds the actual defense needs of the (Korean) peninsula … and will sabotage the strategic balance of power in the region, possibly leading to a new arms race," said Wang.
"The increasingly complicated and unstable global situation calls for much closer communication between China and Russia within the mechanisms of the G20 group, the Shanghai Cooperation Organization and the BRICS, in order to take their due responsibilities for global and regional peace and stability," Wang said in Moscow.
Wang, China's top diplomat, said Beijing will push forward on the alignment of China's Silk Road Economic Belt initiative with the Russia-led Eurasian Economic Union project, which he claimed "will yield fruitful results".
"More efforts should be made from both sides to promote such major strategic projects as the construction of natural gas pipelines and high-speed railways, the exploration of Russia's Far East region, as well as in the areas of aeronautics and astronautics," Wang added.
Russia beat Saudi Arabia to become the biggest seller of crude to China in the race to supply the world's biggest energy consumer.
China, the world's second-biggest oil user, is buying near record amounts of crude from overseas as it seeks to take advantage of a plunge in prices to boost its stockpiles. The International Energy Agency estimates China will be responsible for more than a quarter of global consumption growth in 2016.
The Russian economy has been hit hard by the extraordinary collapse in oil prices highlighting the urgent need to diversify its economy and reduce its reliance on energy exports.
Wang said on Friday China is confident that Russia would be able to overcome its current economic difficulties.
Lavrov, for his part, said cooperation with China is Russia's major foreign policy orientation, and the two countries' comprehensive coordination is in the basic interests of each side.
Before their meeting, Wang laid a wreath at the Tomb of Unknown Soldiers at the Red Square in downtown Moscow.