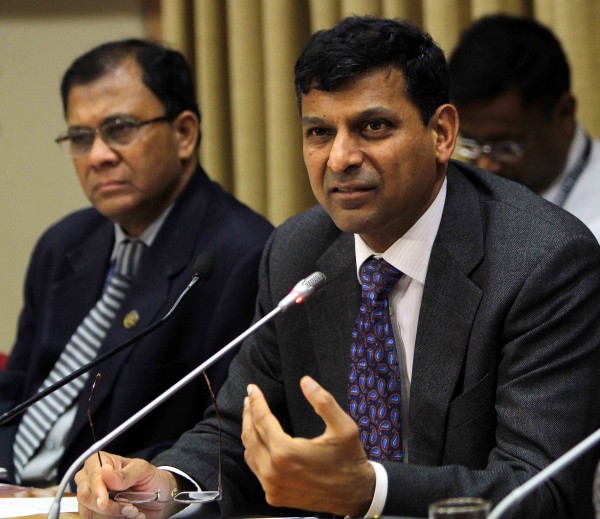 India's Central Bank Governor Raghuram Rajan on Saturday called for a system for assessing the wider impact of monetary policies of global central banks, including unconventional tools and their spillover effect.
The European Central Bank earlier this week eased monetary policy further while the Bank of Japan has also taken interest rates into negative territory for the first time.
Asserting that unconventional monetary policy used by industrialised nations has impact globally, the Indian Central Bank chief said there was a need to discuss the issue and analyse its spillover effect.
Rajan proposed that a group of academics should measure and analyse the "spillover" effects of monetary policies and indicate which should be used and which avoided. He suggested a traffic light system, grading policies green, orange or red.
Right way to measure spillovers of a policy is to measure their welfare, he said.
Speaking at the Advancing Asia Conference, co-hosted by India and IMF, he said a group of "eminent academics with reasonable representation across the globe" should be set up to analyse and grade various policies.
These could be then discussed at global forums such as the G-20, and eventually lead to possible changes of IMF rules or a new international agreement.
Given the importance of spillovers from monetary policies, especially in the face of globally low inflation, it is important to start building a global consensus on how to get better outcomes for the world, he said.
He, however, warned that a strong policy prescription may not be possible soon even with economic analysis of issues at an early stage, as a number of country authorities like central banks have explicit domestic mandates.
"The international community has a choice. We can pretend all is well with the global financial non-system and hope that nothing goes spectacularly wrong. Or we can start building a system for the integrated world of the twenty-first century. I do hope we can consider some initial steps," he said.
Terming monetary policy globally as complicated, the Governor said, that does mean that there should not be any discussion on it.
"As we discuss it, we will develop clearer rules of the game. What makes sense what does not make sense, What is fuzzy and study it better to understand if that can be allowed," he said.
There is no doubt that immediately after the 2008 crisis, unconventional programmes were necessary to repair the financial system, he said.
"The first wave of unconventional policies was absolutely necessary and important for saving the system. After 6-7 years of a policy perhaps we have to examine whether we should keep doing it regardless of the very little evidence of it is having the benefits of what we want," he said.
There has been an impact of unconventional monetary policy on various countries including India, he said.