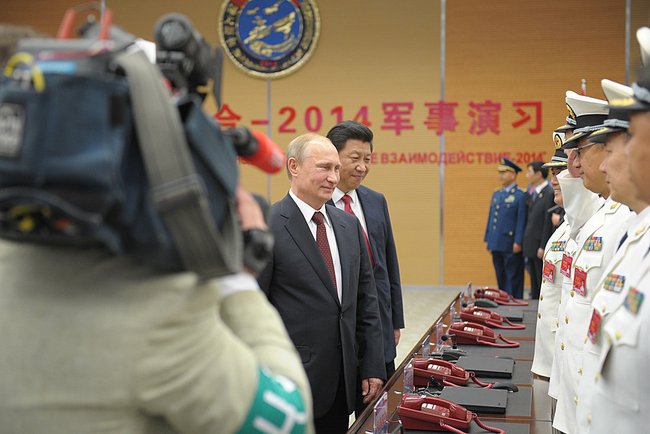 China on Monday hailed Russia's updated security strategy which spoke positively of Russia-China ties. Incidentally, the document names the United States as one of the threats to Russia's national security for the first time.
Chinese Foreign Ministry spokesperson Hua Chunying said China has noted the document endorsed by Russian President Vladimir Putin.
Hua said Chinese President Xi Jinping and Putin met five times in the past year, and had reached important consensus in developing bilateral ties.
Putin signed an executive order on 31st December to approve the updated Russian Federation National Security Strategy. It replaces a 2009 version, endorsed by then- President Dmitry Medvedev, the current prime minister.
"The Strategy is a key strategic planning document that establishes the national interests and strategic national priorities of the Russian Federation, and home and foreign policy goals, targets and measures directed at strengthening national security and ensuring the country's stable long-term development," said a Kremlin statement.
Meanwhile, Hua said China will continue to coordinate on global affairs with Moscow.
"No matter how global and regional situations change, China and Russia are committed to deepening their strategic partnership of coordination, promoting common development, and safeguarding global justice and world peace and stability," the Chinese spokesperson told a regular press briefing in Beijing.
The two countries, as permanent members of the UN Security Council and major emerging economies, will jointly boost high-level development of their strategic partnership of coordination, Hua said.
China and Russia are "committed to a new type of international relations featuring cooperation and mutual benefit, while maintaining regional and world peace and stability", she added.
Russia's trade turnover with China is almost thrice as big as that with the US.
The new national security strategy document of Russia has said the US, in seeking to maintain unipolar dominance over the world, is counteracting Russian domestic policy.
"The network of US biological military labs is expanding on the territories of countries neighboring Russia. Russia's independent foreign and domestic policy has been met with counteraction by the US and its allies, seeking to maintain its dominance in world affairs," it said.
The new security document approved by Putin also lists threats from NATO and "colour revolutions".
The document describes those involved in "colour revolution" as "radical social groups which use nationalist and religious extremist ideologies, foreign and international NGOs, and also private citizens" who work to undermine Russia's territorial integrity and destabilize political processes.
The document says that the United States and the EU have supported an "anti-constitutional coup d'etat in Ukraine".
China, has also, in the past, warned against attempts to destabilize the country through "colour revolutions".
Chinese officials have indicated that both in Ukraine and in Hong Kong, protests against the local government have been engineered by the West mainly through social media.
People's Daily, the mouthpiece of the Chinese Communist Party, had in October last year accused the West of pursuing a colour revolution in the interior of China.
US-Russian ties were considerably frayed after Washington imposed sanctions against Moscow for its alleged backing of Ukrainian rebels.
Both China and India criticised the sanctions against Russia announced by Western economies.
"I want to make it clear that China categorically opposes the sanctions the United States and Western countries have taken against Russia. China categorically opposes colour revolutions and attempts to hold back Russia's development," said Chinese Vice Premier Zhang Gaoli in September in Moscow.