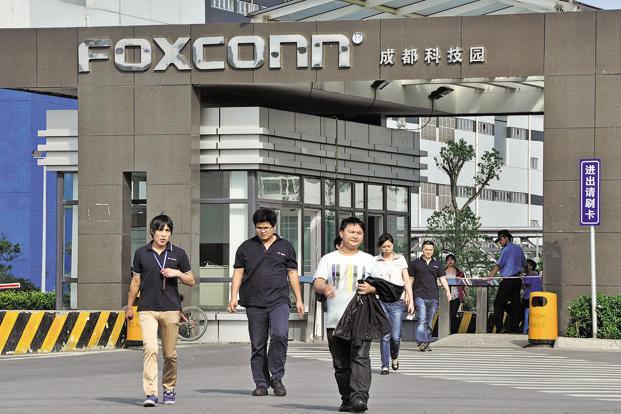 Mumbai: Foxconn, the world's largest contract manufacturer of consumer electronics, will start making 4G smartphones and LCD televisions in Maharashtra from March-April, three senior state government officials confirmed.
The development was first reported by Business Standard on Thursday.
In August, the Taiwan-based company signed a so-called memorandum of understanding with the state government to set up an electronic goods manufacturing facility over 1,500 acres at an investment of $5 billion over five years.
Initially, Foxconn will begin manufacturing from a 200,000 sq.ft Navi Mumbai plot it acquired in November, two senior officials from the state department of industries and one from the chief minister's office said on condition of anonymity.
The plot in Navi Mumbai was leased out to real estate developer Raheja Universal by the Maharashtra Industrial Development Corporation (MIDC) to build an information technology park. But the plot has been vacant since it was leased out for an IT park, said one of the industry department officials quoted above. "Raheja Universal has sublet the plot to Foxconn," the official said.
Raheja Universal refused to comment.
However, the senior official at the chief minister's office quoted above confirmed that the developer has sublet its Navi Mumbai plot to Foxconn "for a warehousing facility". The official said another bigger manufacturing facility of Foxconn will come up "somewhere near Pune".
"Foxconn will start mobile handset production from April. However, specifications are not known," said the industry department official quoted above. The official said the company has zeroed in on 1,500 acres near Talegaon, off the Mumbai-Pune Expressway, for their bigger facility.
Foxconn's $5-billion investment—the biggest foreign direct investment in the recent past—in state is expected create 50,000 jobs, chief minister Devendra Fadnavis had said during the signing of the pact with the company.
Investment from Foxconn, which makes mobile handsets and smartphones for companies such as Apple, Blackberry, Motorola, Asus, and Xiaomi, is the outcome intense lobbying by the centre and the state government.
Foxconn had set up a factory in Chennai to make handsets for Nokia but shut shop when the Finnish mobile maker was bought by Microsoft. Now the company has a unit in Andhra Pradesh where it makes handsets for Chinese phone makers One Plus, Asus and Xiaomi.