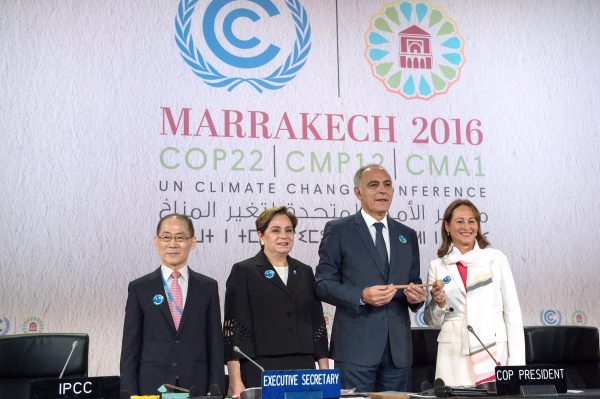 China is expected to play a pivotal role in consolidating and enhancing South-South partnership, particularly when it comes to issues related to climate change.
Speaking to the Chinese news agency Xinhua, Moroccan Foreign Minister and Climate Change Conference (COP22) President Salaheddine Mezouar said that China has an "extremely important role to play in accompanying, reinforcing and boosting South-South partnership and support sustainable development policies in the African continent".
China is currently participating in the 22nd Conference of Parties to the United Nations Framework Convention on Climate Change (COP22) held in Marrakech, Morocco.
China's pavilion at COP22 – led by Xie Zhenhua, China's special representative on climate change affairs – will host on Monday a high-level forum on South-South cooperation on climate change and Mezouar says that South-South cooperation will be a main area of focus at the conference.
He believes China can do much to boost the climate change issue.
There have been fears that the presidential election win of Republican candidate Donald Trump could lead to a withdrawal from the Paris treaty.
This won't affect China's commitment to the treaty, Chinese officials have said.
"No matter what happens in the new US government, China will continue to constructively participate in the international climate change process," said Chen Zhihua, a member of the Chinese delegation in Marrakech.
Both China and the US ratified and signed the deal in September.
China and the US are the world's top two producers of man-made carbon emissions, accounting for 38 per cent of the world's total emissions.
Their joint announcements on ratifying the Paris accords today showed that nations could put aside geopolitical differences to lower carbon emissions.
The landmark agreement reached last year in the French capital entered into force just last week.
Secretary of State John Kerry has previously said that the US and China "demonstrated their continued, shared commitment to climate leadership" by formally joining the agreement.
Chinese President Xi Jinping had also said that "developed countries should honor their commitments and provide financial and technological support to developing countries and enhance their capability in climate actions."
Meanwhile, the World Bank pledged its support for China's climate change initiatives including the Emissions Trading Scheme (ETS). The World Bank said on Friday that it was giving $8 million in support of the ETS.